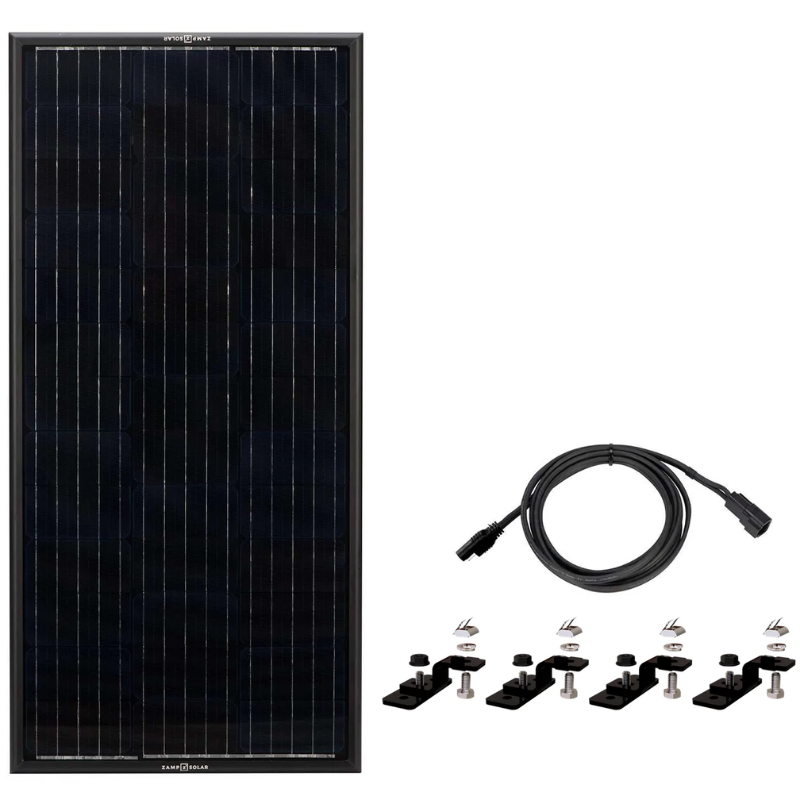 Zamp Solar 100 Watt Solar Panel Kit - Obsidian Series
Description

Why Buy From Us?

Price Match Guarantee
Obsidian Series 100 Watt Solar Panel Kit
Zamp Solar's Obsidian Series 100-Watt Kit includes one (or two) 100-Watt panels that work with any type of 12-Volt battery and can be expanded up to 510 Watts. As thin as a flexible panel without compromising efficiency, these American-made panels also feature ultra-aerodynamic profiles and sleek black anodized aluminum frames.
If one 100 Watt solar panel is not large enough for your setup or project, simply choose the 200 Watt option.  The 100 Watt option produces 4.9 amps while the 200 watt option produces 9.8 amps.
Kit Includes (ZSK1006):
One 100-watt solar panel
One 10 Foot ATP to SAE Cable Extension
One set of OBSIDIAN® SERIES universal mounting feet.
Kit Includes (ZSK1007): 
Two 100-watt solar panel
Two 10 Foot ATP to SAE Cable Extension
Two sets of Obsidian Series Universal Reversible Mounting Feet.
100 Watt Obsidian Solar Panel 
The Zamp Solar Obsidian Series 100 Watt solar panel is perfect for small project applications. As thin as a flexible panel and 30% lighter and 50% slimmer than a traditional panel without compromising efficiency, this American-made panel also features an ultra-aerodynamic profile and a sleek black anodized aluminum frame.
Panel Tech Specs: (Download Technical Spec Sheet)

Weight:

10.78 lbs

Dimensions:

43.6" tall x 20.7" wide x .67" thin

Wattage:

100-Watt Power Output

Output:

Generates 5.01 amps

Open Circuit Voltage:

26.15 volts

Warranty:

25-Year output warranty

AR Coated Tempered Glass

Fused-protected, all weather, plug-and-play wiring
Video
We get it. You've got a lot of choice when it comes to online retailers.
Here's why we think you should shop with us at Outer Provisions.
Free Shipping USA wide. No extra charges. Ever.
Price Match Guarantee. Best prices online guaranteed.
30 Day Easy Returns. No happy with your product, we'll take it back no
questions asked.
Great Service. We pride ourselves on the best service, anywhere.
Your Satisfaction Guaranteed. We handpick our products for quality, we
know you'll love them. But if there is ever something wrong, we'll fix it.
We always aim to have the best prices available on our store. This is our
guarantee to you!

If you (somehow) find another online store with a lower price than us
please let us know, simply email us at sales@outerprovisions.com with a link to the same product on a competitor's website.

Once we have a chance to verify the pricing, we will match or beat the
price you found. No questions asked!

Please note that the price must be the total price, that includes any
shipping costs and taxes that may be charged by the comparison site.
For any further questions, view our Contact Us page.