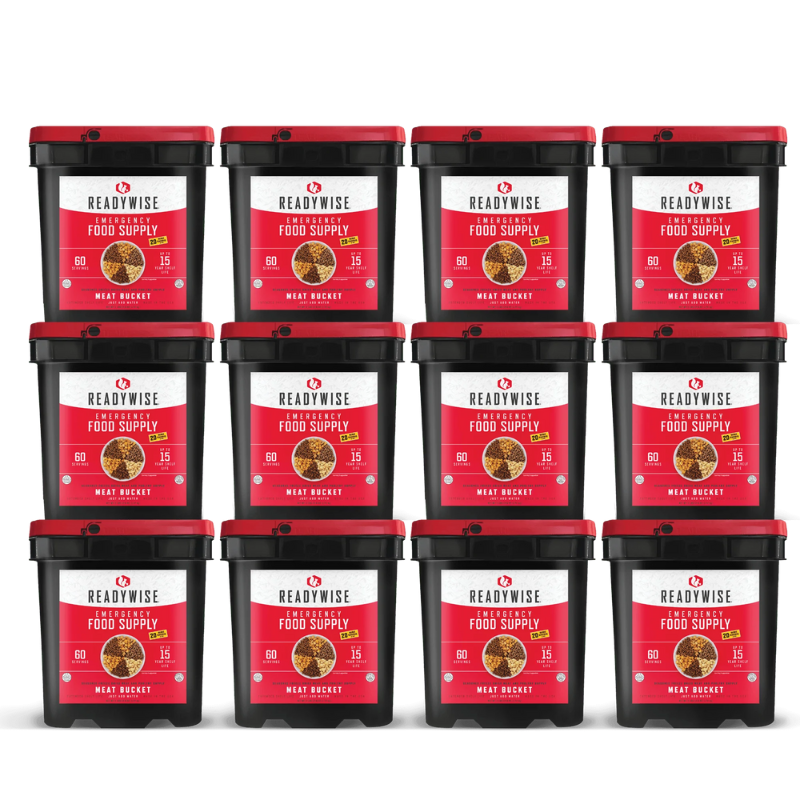 ReadyWise 720 Serving Meat Bundle + 240 Servings of Rice
Description

Why Buy From Us?

Price Match Guarantee
720 Servings of Long-Lasting ReadyWise Meat
"Failing to plan is planning to fail". Does this quote apply to you? Are you prepared for any disaster that can come your way? In the last couple years we've seen viruses, brutal cold killing power, hurricanes, and more. When there is panic, food flies off the shelf. With long-lasting food in your pantry, you never have to worry about this.
The ReadyWise 720 Serving Freeze Dried Meat Bundle is a perfect addition to any food supply, and it contains 240 bonus servings of freeze dried rice. Whether you're affected by a snow storm, hurricane or other weather emergency, it's wise to be prepared.
These great-tasting freeze-dried and dehydrated foods are ready in minutes when you just add water. They also come in stackable buckets with an easy Grab-N-Go handle, so they're easy to store and transport. 
What's included in each bucket?
3 pouches of Roasted Chicken (12 total servings)
3 pouches of Southwest style Chicken (12 total servings)
2 pouches of Teriyaki Chicken (8 total servings)
2 pouches of Stroganoff Beef (8 total servings)
2 pouches of Cheesy Beef (8 total servings)
3 pouches of Roasted Beef (12 total servings)
2 pouches of Rice (20 total servings)
*See photos for Nutrition Facts*
Additional Product Details:
Includes 12 total buckets
Total calories: 90,240
About 720 cups of water needed
Food is safely sealed in Metallyte™ pouches
To avoid waste, each pouch conveniently contains 4 servings
Grab-and-go handles for easy transport in an emergency
15 year shelf life
We get it. You've got a lot of choice when it comes to online retailers.
Here's why we think you should shop with us at Outer Provisions.
Free Shipping USA wide. No extra charges. Ever.
Price Match Guarantee. Best prices online guaranteed.
30 Day Easy Returns. No happy with your product, we'll take it back no
questions asked.
Great Service. We pride ourselves on the best service, anywhere.
Your Satisfaction Guaranteed. We handpick our products for quality, we
know you'll love them. But if there is ever something wrong, we'll fix it.
We always aim to have the best prices available on our store. This is our
guarantee to you!

If you (somehow) find another online store with a lower price than us
please let us know, simply email us at sales@outerprovisions.com with a link to the same product on a competitor's website.

Once we have a chance to verify the pricing, we will match or beat the
price you found. No questions asked!

Please note that the price must be the total price, that includes any
shipping costs and taxes that may be charged by the comparison site.
For any further questions, view our Contact Us page.