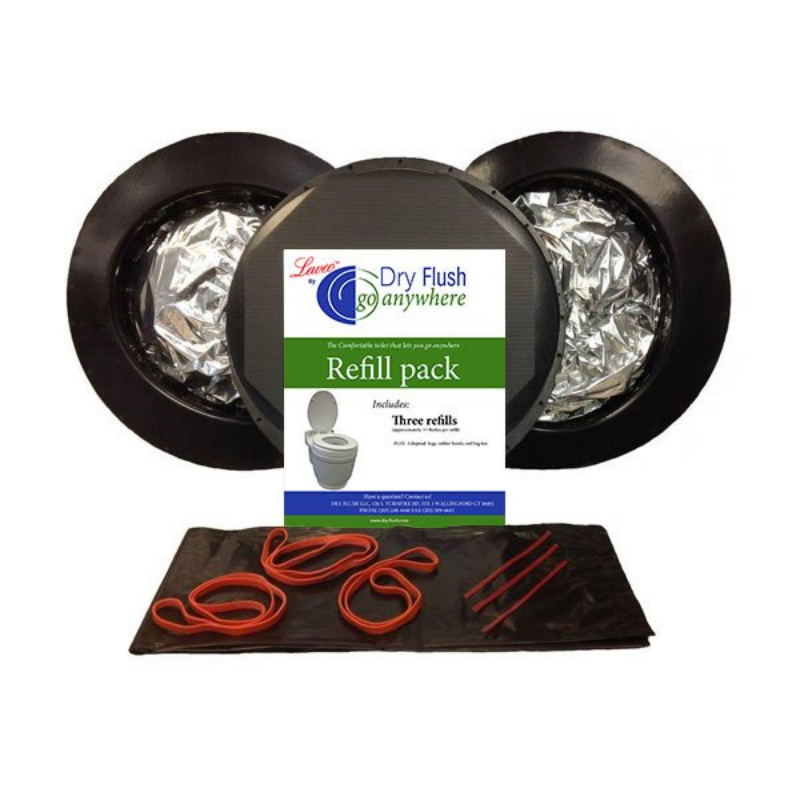 Laveo by Dry Flush Refill Pack
Description

Why Buy From Us?

Price Match Guarantee
The Laveo by Dry Flush Refill Pack includes a disposal bag, twist ties, rubber bands, and instructions. Each refill lasts for approximately 15 flushes.
The Pack comes in sets of 3. So you can order 3, 6, 9, 12, or 15 total refill packs!
When to Change the Packs?
Knowing when to replace the Laveo Dry Flush Toilet's cartridge is actually fairly straightforward. Each cartridge allows for 15 consecutive "flushes" before it will need to be replaced. Once you are down to your second last "flush", you will notice a bright red line will appear on the silver segment of the cartridge. This is easily visible, so it will be fairly obvious when you need to get ready to switch out the cartridge for a new one.
To get rid of a used cartridge, you simply dispose of it anywhere that you would dispose of a diaper. The unique Laveo Dry Flush Cartridges are designed in a discreet way and they will remain completely sealed, so there is no need to conceal them in a plastic garbage bag.

In other words, you can dispose of the used cartridges the same way you would get rid of any type of garbage, as they are accepted by landfills. Getting rid of them is much easier and far less off-putting than draining a RV waste holding tank.
We get it. You've got a lot of choice when it comes to online retailers.
Here's why we think you should shop with us at Outer Provisions.
Free Shipping USA wide. No extra charges. Ever.
Price Match Guarantee. Best prices online guaranteed.
30 Day Easy Returns. No happy with your product, we'll take it back no
questions asked.
Great Service. We pride ourselves on the best service, anywhere.
Your Satisfaction Guaranteed. We handpick our products for quality, we
know you'll love them. But if there is ever something wrong, we'll fix it.
We always aim to have the best prices available on our store. This is our
guarantee to you!

If you (somehow) find another online store with a lower price than us
please let us know, simply email us at sales@outerprovisions.com with a link to the same product on a competitor's website.

Once we have a chance to verify the pricing, we will match or beat the
price you found. No questions asked!

Please note that the price must be the total price, that includes any
shipping costs and taxes that may be charged by the comparison site.
For any further questions, view our Contact Us page.