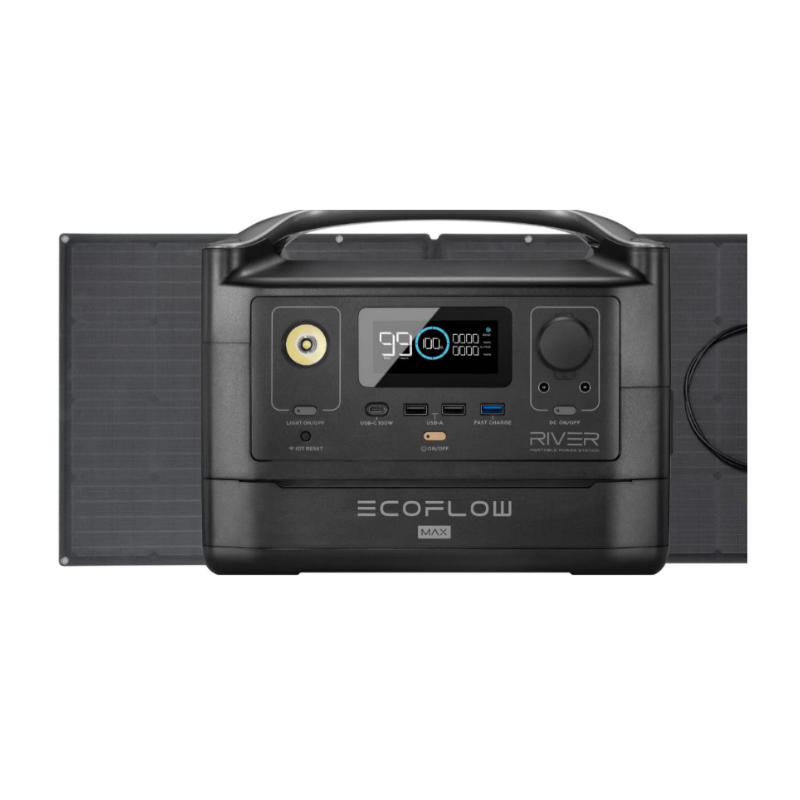 EcoFlow RIVER Max + 160W Solar Panel
Description

Video

Specifications

Items Included

FAQs

Why Buy From Us?

Price Match Guarantee
Hit the outdoors with RIVER Max and keep all your devices powered on at once. With a detachable extra battery, you have up to 576Wh of capacity that charges to full in a record-breaking 96 minutes flat.
The Centerpiece of Your Adventure
Power up to 10 devices at once with all the ports you'll need. Sporting a 576Wh capacity, you'll have enough juice to charge your phone 42 times, charge your drone 6 times, or make 24 cups of coffee with a coffee maker. Just don't drink them all at once.
So Much More Sun
32 premium monocrystalline silicon cells provide a high conversion efficiency of 22%. Recharge even faster by chaining multiple panels in series or in parallel.
Better Together
Recharge freely and naturally when you link EcoFlow's 160W Solar Panel to a RIVER Max portable power station.
POWER WHEREVER YOU GO: Portable solar power generator + Extra Battery that gives you reliable power for outdoor adventures, indoor use, and emergency situations.
RECHARGE FROM 0-80% WITHIN 1 HOUR: EcoFlow X-Stream Charge technology recharges the power station from 0-80% within one hour, which is one of the fastest recharging rates on the market. Quiet Charging can be enabled from the EcoFlow app.
POWER UP TO 10 DEVICES SIMULTANEOUSLY: The RIVER Max can power some devices up to 1800W with the X-Boost mode on, which lets you power about 80% of essential devices like kitchen appliances and DIY tools. Use devices below 1200W for the best product use. 
INTELLIGENT SOLAR CHARGING: The EcoFlow 160W Solar Panel has a high conversion efficiency of 21-22%. Combine the 160W Solar Panel with an EcoFlow Power station to enjoy improved solar charging in cold and cloudy environments.
DURABLE, DUST & WATER RESISTANT: The EcoFlow 160W Solar Panel has IP67 rated dust and water resistance, which is thanks to a seamless, one-piece design, making it ideal for outdoor activities like camping and hiking. An ETFE film provides extra protection against ultraviolet light, prolonging the lifespan of the product.
*Please NOTE: This item is only applicable to orders in the US mainland states(except Hawaii, Alaska, Virgin Islands and Puerto Rico).
RIVER Max
Net Weight

*17 lbs (7.7kg)

Dimension

*11.4 x 7.3 x 9.3 in (28.9 x 18.4 x 23.5 cm)   

Charge Temperature

32-113°F +/- 5°F (0-45°C +/- 3°C)

Discharge Temperature

-4-113°F +/- 5°F (-20-45°C +/- 3°C)  

Color 

Cyber Black 

Warranty

24 months

Charging 

Charge Method

AC Wall Outlet, 12V Car Adaptor, Solar Panel 

Full Recharge Time

1.6 Hours (AC)
6.5 Hours (12/24V Car Adaptor)
3-6 Hours (Using 2x110W Solar Panels in parallel with full sun)

4.8-9.6 Hours (Using 1x160W Solar Panel with full sun)

Battery Info

Capacity

576Wh (28.8V)

Cell Chemistry

Lithium-ion

Shelf Life

1 year (after fully charging the device)

Cycle Life

500 cycles to 80%+ capacity

Management Systems

BMS, Over Voltage Protection, Overload Protection, 
Over Temperature Protection, Short Circuit Protection
Low Temperature Protection, Low Voltage Protection, 
Overcurrent Protection

Testing and certification

UL Standard, CE, FCC, RoHS, RCM

Input Ports

AC Charge Input Power

X-Stream Charge 500W Max

AC Charge Input Voltage

100-120Vac(50Hz/60Hz); International Version 

220-240Vac(50Hz/60Hz) 

Solar Charge Input

200W 10-25V DC 12A Max

Car Charger

12V DC 8A Max

Output Ports

AC Output (x3)

600W (Surge 1200W) total,120Vac( 50Hz/60Hz) 

USB-A Output (x2)

5V DC, 2.4A, 12W Max, per port

USB-A Fast Charge (x1)

5V DC, 9V DC, 12V DC, 2.4A, 28W Max

USB-C Output (x1)

5V DC, 9V DC, 12V DC, 15V DC, 20V DC, 5A, 100W Max  



Car Power Output (x1) 

136W, 13.6V DC, 10A Max

DC5521 Output (x2)

13.6V DC, 3A Max, per port
160W Solar Panel

| | |
| --- | --- |
| Unfolded Dimensions | 26.8*61.8*1.0 in (68*157*2.4 cm) |
| Folded Dimensions | 26.8*16.5*1.0 in (68*42*2.4 cm) |
| Weight | 15.4 lbs (7.0KG)  Solar Panel 11 lbs (5.0KG) |
| Warranty | 12 Months |
| Rated Power | 160W(+/-5W)* |
| Efficiency | 21%-22% |
| Connector Type | MC4 |
| Open Circuit Voltage | 21.4V(Vmp 18.2V) |
| Short Circuit Current | 9.6A(Lmp 8.8A) |
| Cell Type | Monocrystalline Silicon |
| Operating & Storage Temperature | -4° F to 185° F (-20° C to 85° C) |
EcoFlow RIVER Max Portable Power Station

DC5521-DC5525 Cable

1.5m MC4 to XT60 Solar Charging Cable

1.5m AC Charging Cable

1.5m Car Charging Cable

User Manual

Warranty Card

160W Solar Panel

160W Solar Panel Bag

160W Solar Panel User Manual
What devices are compatible with the EcoFlow RIVER Max?
With X-Boost, the EcoFlow RIVER Max is compatible with around 80% of essential devices and appliances up to 1800W. This includes but is not limited to home devices like lights, small refrigerators, televisions, hair dryers, and outdoor devices like phones, laptops, cameras, drones, electric kettles, and more.
How many solar panels can I connect to the EcoFlow RIVER Max?
You can connect one EF 110W Solar Panel in series or two sets of EF 110W Solar Panels in parallel if you require more power. To connect two solar panels in parallel to the EcoFlow RIVER Max, please purchase the EF Solar Parallel Cable separately.
 Can I use 1800W devices with EcoFlow RIVER Max?
EcoFlow RIVER Max can support devices up to 1800W, but it is recommended to test each device on a case-by-case basis. We recommend users to use devices up to 1200W for the most efficient product experience. Lastly, make sure to upgrade your RIVER Max to the latest firmware from the EcoFlow app before using the X-Boost feature.
 Is the EcoFlow RIVER Max worth it?
If you're looking for a customizable portable power station, the EcoFlow RIVER Max is an excellent choice for any adventure. The Extra Battery and modular design give you plenty of options depending on whatever your application is, making this a portable power station for everyone.
 Can I charge DELTA series power stations with RIVER series power station AC charging cables?
DO NOT use RIVER series portable power station AC charging cables on DELTA series power stations. EcoFlow takes no responsibilities for any damages caused by customers' failure to follow instructions. Doing so will void the warranty.
 Can RIVER Max handle high wattage appliances?
Yes. RIVER Max can power devices up to 1800W with our proprietary technology, X-Boost. *X-Boost can run devices that require up to 1800W, however, it's best to test before use. Some 600W-1800W appliances with strict voltage requirements may not function (eg. air compressors).
We get it. You've got a lot of choice when it comes to online retailers.
Here's why we think you should shop with us at Outer Provisions.
Free Shipping USA wide. No extra charges. Ever.
Price Match Guarantee. Best prices online guaranteed.
30 Day Easy Returns. No happy with your product, we'll take it back no
questions asked.
Great Service. We pride ourselves on the best service, anywhere.
Your Satisfaction Guaranteed. We handpick our products for quality, we
know you'll love them. But if there is ever something wrong, we'll fix it.
We always aim to have the best prices available on our store. This is our
guarantee to you!

If you (somehow) find another online store with a lower price than us
please let us know, simply email us at sales@outerprovisions.com with a link to the same product on a competitor's website.

Once we have a chance to verify the pricing, we will match or beat the
price you found. No questions asked!

Please note that the price must be the total price, that includes any
shipping costs and taxes that may be charged by the comparison site.
For any further questions, view our Contact Us page.