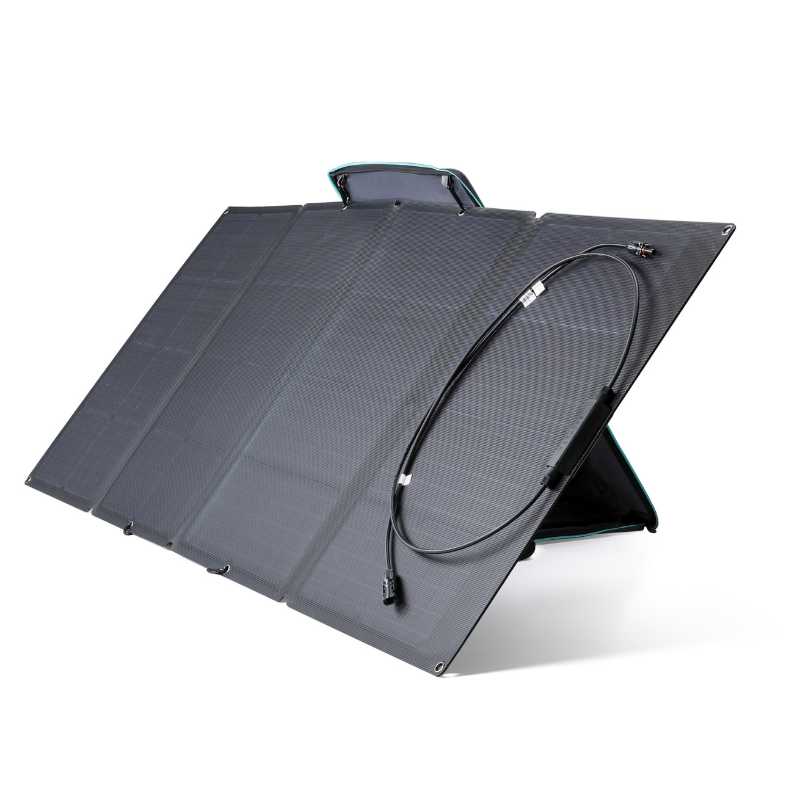 EcoFlow Portable 160W Solar Panel - EFSOLAR160W
Description

Specifications

Items Included

Why Buy From Us?

Price Match Guarantee
Stay in charge wherever you go. The EcoFlow 160W Solar Panel is portable, foldable, and intelligently designed, delivering a smart and easy way to produce power on the go.
Portable & Foldable:
The EcoFlow 160W Solar Panel is portable and foldable, making it ideal for camping, hiking, and outdoor adventures. The solar panel folds into a compact size for transportation, and can be unfolded and set up easily.
Advanced Solar Cells;
The 32 premium monocrystalline silicon cells provide a high conversion efficiency of 22%, guaranteeing efficient power in daylight conditions. The total maximum input of the solar panel is subject to environment and operation conditions. Use the solar panel in direct sunlight for the best performance.
Intelligent Solar Power:
The EcoFlow 160W Solar Panel can be paired with an EcoFlow power station to take advantage of the advanced MPPT solar charge controller, which detects current and voltage in real time. This provides the best solar power performance, even when environmental conditions change.
Adjustable Kickstand:
The adjustable kickstand enables you to position the solar panel in any direction or orientation. This design feature ensures that you can connect and position multiple panels together without making them overlap, which provides more efficient solar panel charging.
Compatible Design:
The universal MC4 connector is compatible with other products on the market, and it enables you to connect multiple EcoFlow 160W Solar Panels together with the EcoFlow DELTA for more efficient solar power generation.
Durable, Dust & Water resistance:
Whether you are camping, hiking, or going on a road trip, the EcoFlow 160W Solar Panel has got your back. With IP67 rated dust and water resistance, our solar panel is designed for the great outdoors, also featuring an 0.2mm ETFE film that protects the surface from ultraviolet light and prolongs the life of the product.
| | |
| --- | --- |
| Unfolded Dimensions | 26.8*61.8*1.0 in (68*157*2.4 cm) |
| Folded Dimensions | 26.8*16.5*1.0 in (68*42*2.4 cm) |
| Weight | 15.4 lbs (7.0KG)  Solar Panel 11 lbs (5.0KG) |
| Warranty | 12 Months |
| Rated Power | 160W(+/-5W)* |
| Efficiency | 21%-22% |
| Connector Type | MC4 |
| Open Circuit Voltage | 21.4V(Vmp 18.2V) |
| Short Circuit Current | 9.6A(Lmp 8.8A) |
| Cell Type | Monocrystalline Silicon |
| Operating & Storage Temperature | -4° F to 185° F (-20° C to 85° C) |
| Product | Quantity |
| --- | --- |
| EcoFlow 160W Solar Panel | X 1 |
| 160W Solar Panel Bag | X 4 |
| User Manual | X 1 |
| | |
We get it. You've got a lot of choice when it comes to online retailers.
Here's why we think you should shop with us at Outer Provisions.
Free Shipping USA wide. No extra charges. Ever.
Price Match Guarantee. Best prices online guaranteed.
30 Day Easy Returns. No happy with your product, we'll take it back no
questions asked.
Great Service. We pride ourselves on the best service, anywhere.
Your Satisfaction Guaranteed. We handpick our products for quality, we
know you'll love them. But if there is ever something wrong, we'll fix it.
We always aim to have the best prices available on our store. This is our
guarantee to you!

If you (somehow) find another online store with a lower price than us
please let us know, simply email us at sales@outerprovisions.com with a link to the same product on a competitor's website.

Once we have a chance to verify the pricing, we will match or beat the
price you found. No questions asked!

Please note that the price must be the total price, that includes any
shipping costs and taxes that may be charged by the comparison site.
For any further questions, view our Contact Us page.