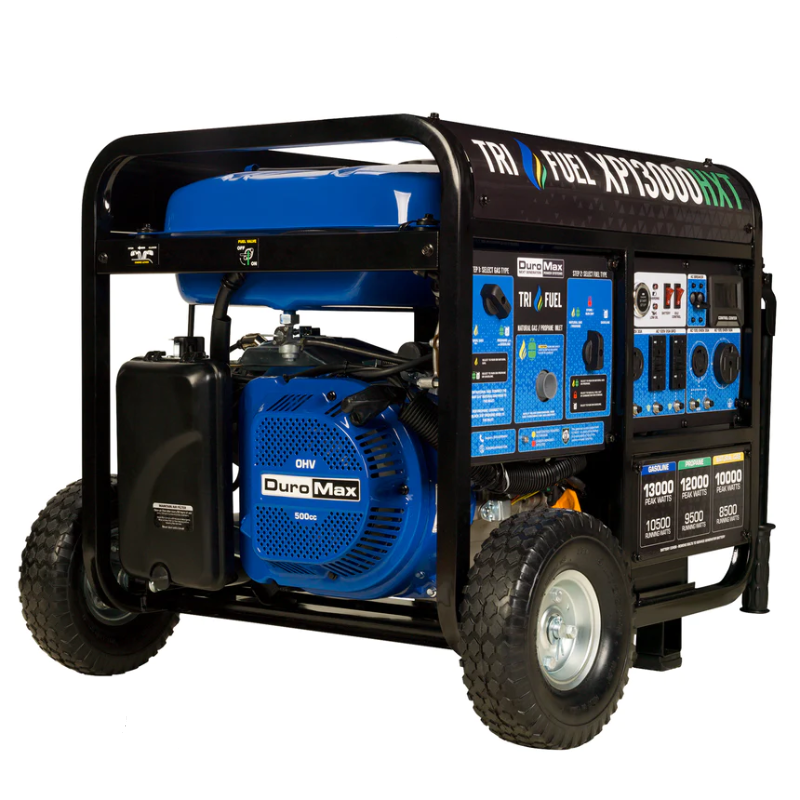 DuroMax 13000 Watt Tri Fuel Portable Generator w/ CO Alert
Description

Videos

Specs

Why Buy From Us?

Price Match Guarantee
DuroMax 13000 Watt Tri Fuel Portable Generator w/ CO Alert
Introducing the XP130000HXT Tri Fuel generator that America has been waiting for. With 13,000 watts of peak power, this unit will run on Gasoline, Propane, or Natural Gas and stands alone as the largest Tri Fuel portable generator on the market!
The Largest Tri Fuel Portable Generator on the Market
With 13,000 watts of power, the XP13000HXT Tri Fuel generator will keep your whole home running during a storm or power outage, while protecting your family from harmful fumes with CO Alert Dual Fuel Technology
Tri Fuel Technology
Run your generator on gasoline, propane, or natural gas. With Tri Fuel, we offer the ultimate freedom and flexibility of fuel choice.
The Most Robust Engine on the Market
The DuroMax XP13000HXT like all DuroMax products resides a robust DuroMax engine. Designed for Power. Designed to Last.
Fully Loaded Power Panel
The XP13000HXT comes with a push button start, a front facing interface that allows you to change your fuel type in seconds, and a wide variety of outlets including a transfer switch-ready 50 amp outlet.

Power Panel:
Fuel Interface:

CO Alert 
Our innovative CO Alert eliminates the threat of carbon monoxide poisoning by automatically shutting down the generator when harmful fumes are detected.
Dependable
Power wherever and whenever you need it. No-Flat tires and rolls easily over any terrain.
Rugged
Constructed with a heavy-duty all metal frame and power panel - no plastic parts.
Warranty Information
DuroMax stands behind this Generator with a 5 Year parts and technical service warranty. Our USA based teams are available to help walk-through, troubleshoot or diagnose. Nationwide service centers fix any issues - DuroMax has you covered!
Click Here for for Warranty information
Sales Sheet
Click Here for more product information
Product Manual
Click Here for the product manual
What
 

Size Generator Do I Need?

Read more Here for information on generator sizing and estimated wattage requirements.
Included in Your Generator:
Overview:
 CO Alert Technology
XP13000HXT Specifications:
Gasoline
Peak Wattage
13,000
Running Wattage
10,500
Running Amperage at 120V
87.5
Running Amperage at 240V
43.75
Runtime at 25% Load
17
Runtime at 50% Load
8.5
Propane
Peak Wattage
12,000
Running Wattage
9,500
Running Amperage at 120V
79.16
Running Amperage at 240V
39.58
Runtime at 25% Load
13
Runtime at 50% Load
6.5
Natural Gas
Peak Wattage
10,000
Running Wattage
8,500
Running Amperage at 120V
70.83
Running Amperage at 240V
35.42
Engine & Emission Specifications
Engine Manufacturer
DuroMax Power Equipment
Engine Type
4-Stroke
Valve Type
OHV
Engine Cooling Type
Forced Air
Engine Size
500cc
Engine Speed
3600 RPM
Starting Type
Push Button
Electric Start
Yes
Recoil Start
Yes
Idle Control
No Load Low Idle
Fuel Delivery System
Carburetor
Fuel Types
Gasoline, Propane, and Natural Gas
Oil Cooling Type
Splash
Recommended Oil
10W-30
Recommended Oil Types
Blended, Conventional, or Synthetic
Oil Capacity
40.5 fluid oz
Suggested Propane Tank Size
40 lbs. minimum
Automatic Low Oil Shutdown
Yes
Cast Iron Sleeve
Yes
Bearing Type
Stainless Steel Ball Bearing
CO Sensor Shutdown
Yes
EPA Certified
Yes
CARB Certified
Yes
50 State Emissions
Yes
Panel Specifications
GFCI Outlets
Yes
Battery Switch
Yes
Volt Meter
Digital
Hour Meter
Yes
5-20R
4
L5-30R
1
L14-30R
1
14-50R
1
Generator Specifications
Manufacturer
DuroMax Power Equipment
Part #
XP13000HXT
Voltage
120/240 Volts
Frequency
60 Hertz
GFCI Outlets
Yes
Propane Hose & Regulator
Included
Winding Material
100% Copper Windings
Automatic Voltage Regulator
Yes
Battery Type
12V SLA
Battery Included
Yes
RV Ready
Yes
Home Backup Ready
Yes
Fuel Tank Capacity Gasoline
8.3 Gallons
Fuel Gauge
Yes
All Metal Construction
Yes
Product Dimensions
30"-Long x 29"-Wide x 26"-High
Product Dry Weight
240-lbs
Product Weight
246-lbs
Volume (db)
74 dB
UPC
811640016470
Warranty
5 Year
Wheel & Handle Kit
Included
Wheel Type
Metal Hub
Wheel Diameter
10-Inches
What's in the Box?
XP13000HXT Generator, Oil Funnel, Spark Plug Wrench, Tool Set, Wheel & Handle Kit, Propane Regulator, Remote Control, and Owner's Manual
We get it. You've got a lot of choice when it comes to online retailers.
Here's why we think you should shop with us at Outer Provisions.
Free Shipping USA wide. No extra charges. Ever.
Price Match Guarantee. Best prices online guaranteed.
30 Day Easy Returns. No happy with your product, we'll take it back no
questions asked.
Great Service. We pride ourselves on the best service, anywhere.
Your Satisfaction Guaranteed. We handpick our products for quality, we
know you'll love them. But if there is ever something wrong, we'll fix it.
We always aim to have the best prices available on our store. This is our
guarantee to you!

If you (somehow) find another online store with a lower price than us
please let us know, simply email us at sales@outerprovisions.com with a link to the same product on a competitor's website.

Once we have a chance to verify the pricing, we will match or beat the
price you found. No questions asked!

Please note that the price must be the total price, that includes any
shipping costs and taxes that may be charged by the comparison site.
For any further questions, view our Contact Us page.