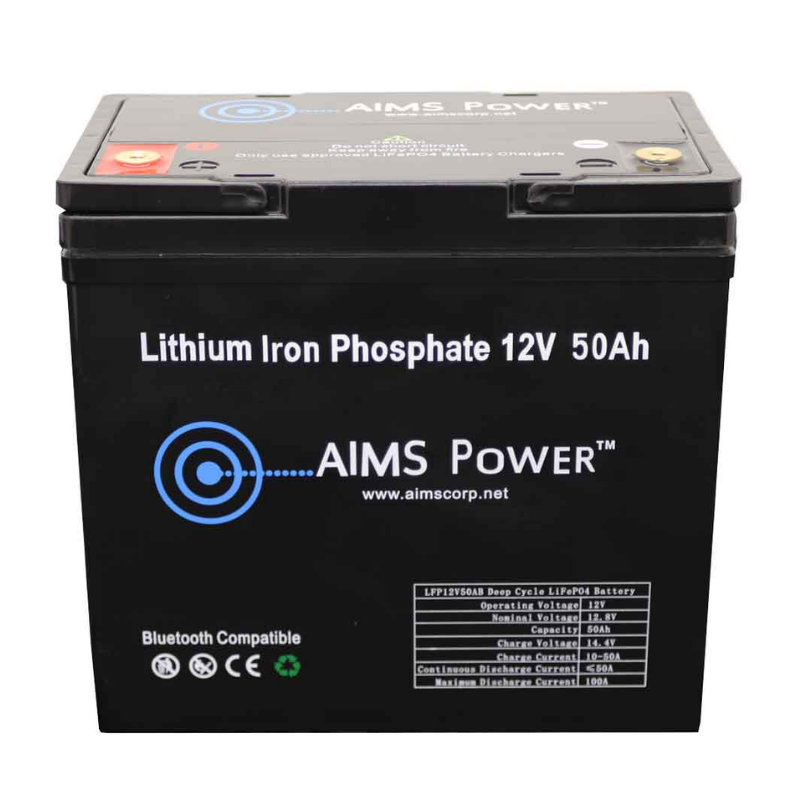 AIMS Power Lithium Battery 12V 50Ah LiFePO4 Lithium Iron Phosphate with Bluetooth Monitoring
Description

Video

Features

Specifications

Manual

Why Buy From Us?

Price Match Guarantee
AIMS Power introduces its new battery product line of LiFePO4 batteries. The LiFePO4 batteries maintain constant output voltage, providing more efficient power. This allows the cell to deliver virtually full power until it is fully discharged without harming the battery, and it can greatly simplify or even eliminate the need for voltage regulation circuitry.
The battery has a much longer cycle life capacity, and is easier to maintain compared to other battery technologies. The LiFePO4 technology has better thermal and chemical stability, which improves battery safety and packed with power in a small and lightweight footprint.
Easily uses the same space as your existing 12V battery and replaces lead acid, AGM or Gel battery applications in RVs, boats, commercial vehicles, off grid back up power and much more. Not intended to replace starting batteries. Backed by an IEC rating that specifies requirements and tests for the safe operation of secondary lithium cells and batteries used in industrial applications including stationary applications. 
*Google and Apple app is AIMSBATB.
Extremely high number of charge/discharge cycles

> 10 Year lifespan with proper maintenance

Bluetooth monitoring software 

Wide operating temperature range

Unsurpassed high temperature performance

Green energy without metal contaminant

Low maintenance

High amp capacity

Stable output voltage

Little self-discharge

BMS safety protection. Each cell is fused and if for some unlikely situation a cell fails, this design will isolate the cell stopping any other damage and allows the battery to function safely

Lightweight

50, 100 & 200 Ah models available

Short circuit protected

Physical damage to battery case will not cause fire

Excessive thermal exposure will not cause a fire

Able to withstand over-charge/over-discharge without damage to the battery

Sophisticated Battery Management System (BMS)
Electrical Specifications

LFP12V50B

Nominal Voltage

12.8V

Nominal Capacity (at .5C, 77°F)

50Ah

Minimum Capacity (at .5C, 77°F)

47.5Ah

Expected Cycle Life

>4000 cycles w/1C charge and discharge rate, at 77°F, 80% DOD

Operating Specifications
 
Charge Method

Smart charger, constant current, constant voltage

Charge Voltage Range (Max 14.6V)

14.4 -14.6V

Continuous Charge Current

50A Max

Charge Temperature

32° F to 113° F

Continuous Discharge Current

50A Max

Peak Instant Discharge Current (10 secs)

100A

Over Voltage Shutdown

15.2 +/-.5V

Discharge Cut-off Voltage

8V =/- .5V

Discharge Temperature

-4° F to 149° F 

(battery will not shut off below -4° F)
Storage Temperature

-4° F to 113° F

Self Disharge (stored at 50% SOC)

< 3%/month

Watt hours

600 watt hours

Physical Specifications
 
Battery Dimensions

9″L x 5.5″W x 9″H with terminals

Unit Weight: 
15.5
Shipped Weight: 
16.5
Group Size

1250

Battery post size

5/16" M8 1.3" long 

BMS Operation
 
Over Charge Protection

Over charge detection voltage:   3.8 +/- .05V

Over charge detection delay time:   .96 – 1.4s

Over charge release voltage:   3.60 +/-.05V

Maximum charge voltage:   3.65 +/-.05V

Over Discharge Protection

Over discharge detection voltage:   2.0V +/- .05V

Over discharge detection delay time:   .96-1.4s

Over discharge release voltage:   2.3V +/- .10V

Over Current Protection

Over current detection delay time:   9 +/- 2ms

Over current release condition:   Cut load

Polarity Reverse Protection

Yes

Short Circuit Protection

Yes

UPC

840271005805

Warranty
10 Yr Manufacturer Defect. Prorated.
*Google and Apple app is AIMSBAT.
We get it. You've got a lot of choice when it comes to online retailers.
Here's why we think you should shop with us at Outer Provisions.
Free Shipping USA wide. No extra charges. Ever.
Price Match Guarantee. Best prices online guaranteed.
30 Day Easy Returns. No happy with your product, we'll take it back no
questions asked.
Great Service. We pride ourselves on the best service, anywhere.
Your Satisfaction Guaranteed. We handpick our products for quality, we
know you'll love them. But if there is ever something wrong, we'll fix it.
We always aim to have the best prices available on our store. This is our
guarantee to you!

If you (somehow) find another online store with a lower price than us
please let us know, simply email us at sales@outerprovisions.com with a link to the same product on a competitor's website.

Once we have a chance to verify the pricing, we will match or beat the
price you found. No questions asked!

Please note that the price must be the total price, that includes any
shipping costs and taxes that may be charged by the comparison site.
For any further questions, view our Contact Us page.