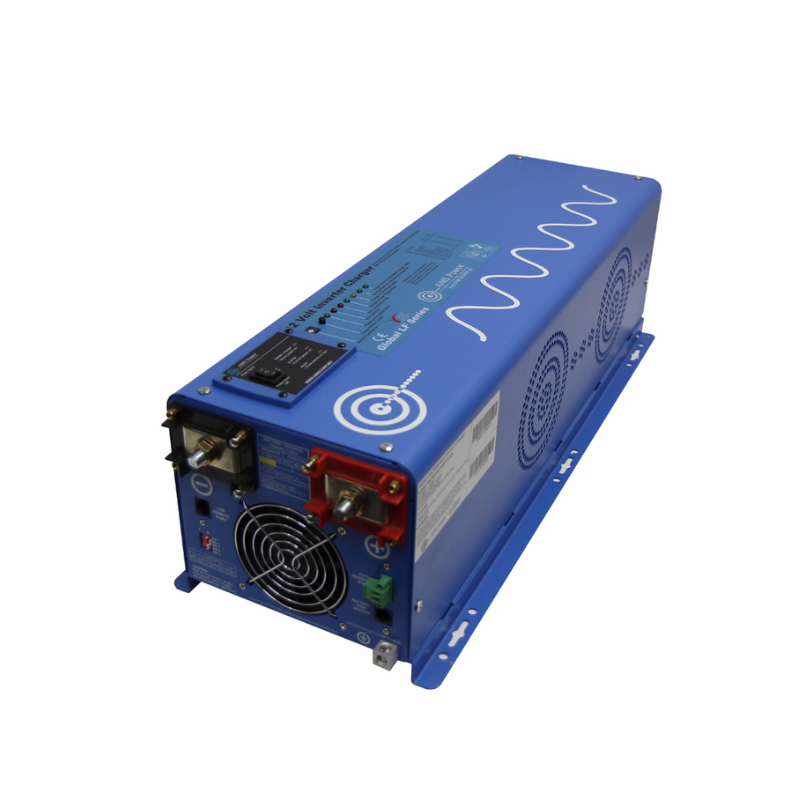 AIMS Power 4000 Watt Pure Sine Inverter Charger - 12 VDC to 120/240VAC
Description

Video

Features

Specifications

Manual

Why Buy From Us?

Price Match Guarantee
If you are looking for a 4000-watt pure sine inverter/charger that saves you money, time and hassles, look no further. This 4000-Watt Low-Frequency AIMS Power Inverter Charger is three products in one.
Our 4000-watt pure sine wave inverter transforms DC (direct current) power stored by batteries into AC (alternating current) electricity you can use to power tools and appliances.
A built-in 40-amp automatic transfer switch lets the product automatically switch from using a battery bank to shore power. This provides protection in the event of a power outage. The switch will automatically detect the outage and redirect power from your backup battery bank, giving you a smooth, seamless transition for your electrical appliances and equipment. With this 4000-watt inverter, pure sine power can run even sensitive electronic equipment and gear efficiently and effectively.
This inverter also has a built-in 100 amp battery charger that can use AC power, from the grid or from a fuel-powered generator. It can be used to recharge a battery bank as well. The battery-type selector on the top of the unit lets you adjust the voltage provided to the bank.
This product makes a great backup to keep everything running during electrical outages caused by storms or other adverse conditions. In the event of a power outage, you can use this inverter combined with a battery bank to run a few lights, a refrigerator and perhaps a few other necessities.
The most popular feature of this unit is the direct connect terminal block, which allows a 300 percent surge capacity for up to 20 seconds. When using the terminal block, this inverter peaks at 12000 watts with the power to run many tools and appliances with a startup surges, such as a refrigerators, freezers, microwaves and blow dryers.
Use this product for renewable solar, off-grid home and business back up power, mobile and emergency backup power applications anywhere that uses 110 or 120 volts of alternating current. The inverter accepts 12 volts DC, which makes it great for vehicle upfitting as well as boat and RV applications that use a 12 volt battery system.  The inverter outputs 120/240 volts AC. The inverter also charges at 120 Volts.

The marine-coated or conformal-coated boards also make this inverter great for mobile applications, as it protects the product from dust or water vapor that may be present in the air.
A low frequency label has been given to this inverter because of the lowered level of total harmonic distortion (THD) produced during the DC to AC inversion process. This allows for a cleaner transfer of energy, which increases efficiency, and it also provides a quieter performance.
This inverter will also run powerful tools like most electric chainsaws, portable grinders, shop vacs, and more.
This 4000 watt inverter charger produces a pure sine wave, which some appliances require for use. So it can run laser jet printers, computers, televisions, CPAP machines and other medical equipment.
During a big storm that knocks out electricity, a battery-bank and power inverter running a sump pump could be the difference that saves a home from flooding. The power to run a heater could save someone thousands of dollars by keeping plumbing pipes from freezing.
Also great for emergency backup power applications is the automatic transfer switch on this unit, which keeps the power supply uninterrupted in the event of an outage. With the inverter hooked up to shore power, it will detect the loss of electricity and start pulling energy from a connected battery bank instead to keep the power supply constant.
Other popular applications for this inverter include powering lights and other appliances in an off-grid cabin, providing electricity for a mobile business or mobile office, and running camping equipment.
Features:
Charges at 120V
4000 watt low frequency inverter
12000 watt surge for 20 seconds 300% surge capability
Battery priority selector
AC direct connect terminal bock for hardwire
Marine coated and protected
Multi stage smart charger 100 Amp
Charges lithium LiFePO4, GEL, AGM and lead batteries. We recommend to check battery charging specifications for all batteries.
Remote panel available
Auto frequency
10msec typical transfer time
Selectable 25W power save mode (hibernation)
7 battery type settings for charger
Automatic transfer switch
Inverter Output Specifications:
Continuous Output Power: 4000 Watts
Surge Rating: 12000 Watts (20 Seconds)
Output Waveform: Pure Sine/Same as input (Bypass Mode)
Nominal Efficiency: >88% (Peak)
Line Mode Efficiency: >95%
Output Frequency: 50Hz +/- 0.3Hz / 60Hz +/- 0.3Hz
Typical Transfer Time: 10ms (Max)
THD: < 10% DC
Ambient Operating Temperature: 14°F to 122°F (-10°C to 50°C)
Input Specifications
Nominal Input Voltage: 12.0Vdc
Minimum Start Voltage: 10.0Vdc
Low Battery Alarm: 10.5Vdc-11.0Vdc
Low Battery Trip: 10.0Vdc-10.5Vdc
High Voltage Shutdown: 16.0Vdc
Low Battery Voltage Restart: 13.3Vdc
Idle Consumption: <3.47 amps DC
Power Saver Mode Idle Consumption: <0.53 amps DC

Charger Specifications
Output voltage: depends on battery type
Charger rate: 115A
Over charge protection shutdown 15.7V
Selectable charge setting based on battery type
Adjustable charge current: off-20%-100%
Four stage smart charger
Transfer Switch Specifications
40 amp automatic transfer switch
10 ms (max)

Dimensions
Unit Weight: 64 lbs.
Unit Size L x W x H: 23.5 x 8.75 x 7.10 inches
Shipping Weight: 75 lbs.
Shipping L x W x H 30.5 x 14.25 x 13.75inches
We get it. You've got a lot of choice when it comes to online retailers.
Here's why we think you should shop with us at Outer Provisions.
Free Shipping USA wide. No extra charges. Ever.
Price Match Guarantee. Best prices online guaranteed.
30 Day Easy Returns. No happy with your product, we'll take it back no
questions asked.
Great Service. We pride ourselves on the best service, anywhere.
Your Satisfaction Guaranteed. We handpick our products for quality, we
know you'll love them. But if there is ever something wrong, we'll fix it.
We always aim to have the best prices available on our store. This is our
guarantee to you!

If you (somehow) find another online store with a lower price than us
please let us know, simply email us at sales@outerprovisions.com with a link to the same product on a competitor's website.

Once we have a chance to verify the pricing, we will match or beat the
price you found. No questions asked!

Please note that the price must be the total price, that includes any
shipping costs and taxes that may be charged by the comparison site.
For any further questions, view our Contact Us page.