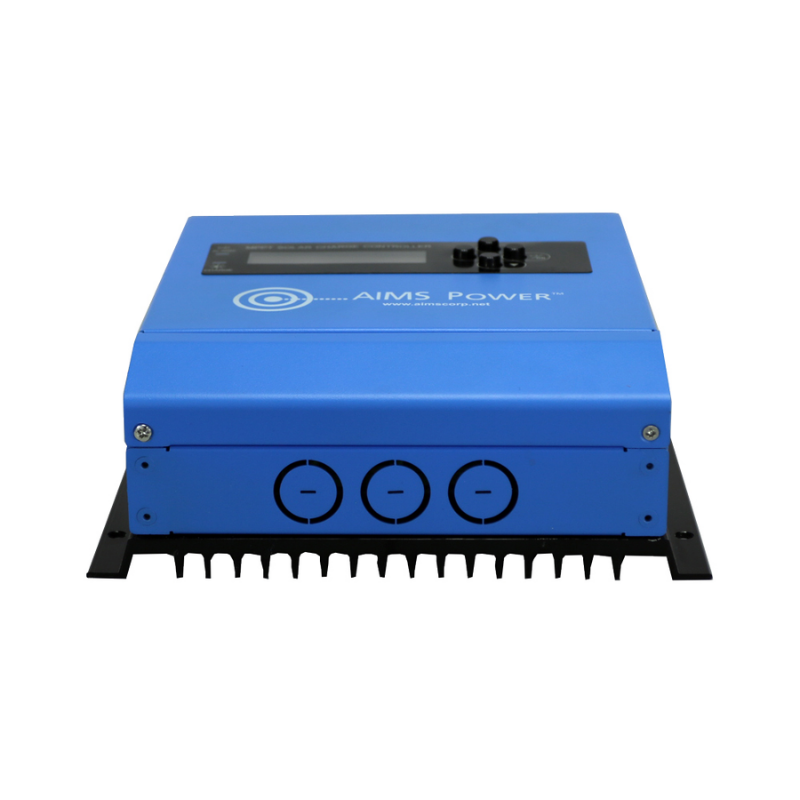 AIMS Power 30 AMP MPPT Solar Charge Controller - 12 or 24 VDC
Description

Video

Features

Specifications

Manual

Why Buy From Us?

Price Match Guarantee
This solar battery charge controller by AIMS Power features a smart tracking algorithm using MPPT charging technology and has less power loss performing at 97.5-99% efficiency, maximizing energy harvest. The tracking algorithm is automatic and varies with weather conditions.
This charge controller also has temperature compensation protection using the included battery temperature sensor. Charges 12 & 24 volt solar systems with multistage charging technology and adjusts according to battery type. The AIMS charge controller includes LED indicators to show charging status and faults. An LCD displays key information such as battery voltage, solar panel voltage, solar panel charging current and charge mode. Users are able to revise and set the default parameters according to system design. Backed by a 2 year warranty.
MPPT technology: Maximum Power Point Tracking produces maximum available power from PV array to battery bank utilizing peak power of the I-V curve
Quality heatsink cooling – no fans needed and no thermal derating
Battery type selector and user defined charging voltage
4 stage charging
PV input, battery output and load control ports
Stackable
Reliable electronics, over engineered components generating less heat
Very efficient up to 99%
Low self consumption
Thermal design rugged case
Over temp protection
Overload, short circuit, high and low voltage protection
CE, ETL to UL1741 and RoHS compliant
Marine coated
Mounting holes
ELECTRICAL
PV Operating Voltage:
18-100Vdc@12V
34-100Vdc@24V
Rated PV input:
12V – 400 Watts
24V – 800 watts
Maximum battery current: 30 amps
DC load port: 30 amps
Max PV open circuit voltage: 100Vdc
Self power consumption: <2 watts
Efficiency: 97%
Protections: overload, short circuit, high voltage, high temperature, low voltage and auto correct
Optimal cooling case design – built for extreme conditions
 
CHARGING
Battery types: gel, sealed, AGM, flooded, lithium, user defined (adjustable voltage)
4 Stage charging: bulk, absorption, float and equalize
Bulk charge voltage: sealed 14.4V, AGM/Gel 14.2V, flooded 14.6V, user defined 10-15V
Float charge voltage:  sealed/AGM/Gel 13.7V, flooded 13.6V, user defined 10-15V
Equalize charge voltage: sealed 14.6V, AGM/Gel 14.8V, flooded 14.8V, user defined 10-15V
Low voltage reconnection: 12.5V
Low voltage disconnect voltage: 10.5V (10.5-12.5V adjustable)

MECHANICAL
Enclosure: IP43 protection, metal
Cooling: heatsink
Humidity: 100% non-condensing
Temperature compensation: -5mV⁰C / 2V with BTS
Temperature range: -25⁰C to 60⁰C or -13⁰F to 140⁰F
Conformal coated for marine environments
Wire knockouts: 1.25"
Unit weight: 5 lbs
Boxed weight: 6 lbs
Dimensions: 8.25"L x 7"W x 2.75"H
Warranty: 2 years
Certifications: ETL to UL1741, CE, RoHS, CETL
We get it. You've got a lot of choice when it comes to online retailers.
Here's why we think you should shop with us at Outer Provisions.
Free Shipping USA wide. No extra charges. Ever.
Price Match Guarantee. Best prices online guaranteed.
30 Day Easy Returns. No happy with your product, we'll take it back no
questions asked.
Great Service. We pride ourselves on the best service, anywhere.
Your Satisfaction Guaranteed. We handpick our products for quality, we
know you'll love them. But if there is ever something wrong, we'll fix it.
We always aim to have the best prices available on our store. This is our
guarantee to you!

If you (somehow) find another online store with a lower price than us
please let us know, simply email us at sales@outerprovisions.com with a link to the same product on a competitor's website.

Once we have a chance to verify the pricing, we will match or beat the
price you found. No questions asked!

Please note that the price must be the total price, that includes any
shipping costs and taxes that may be charged by the comparison site.
For any further questions, view our Contact Us page.