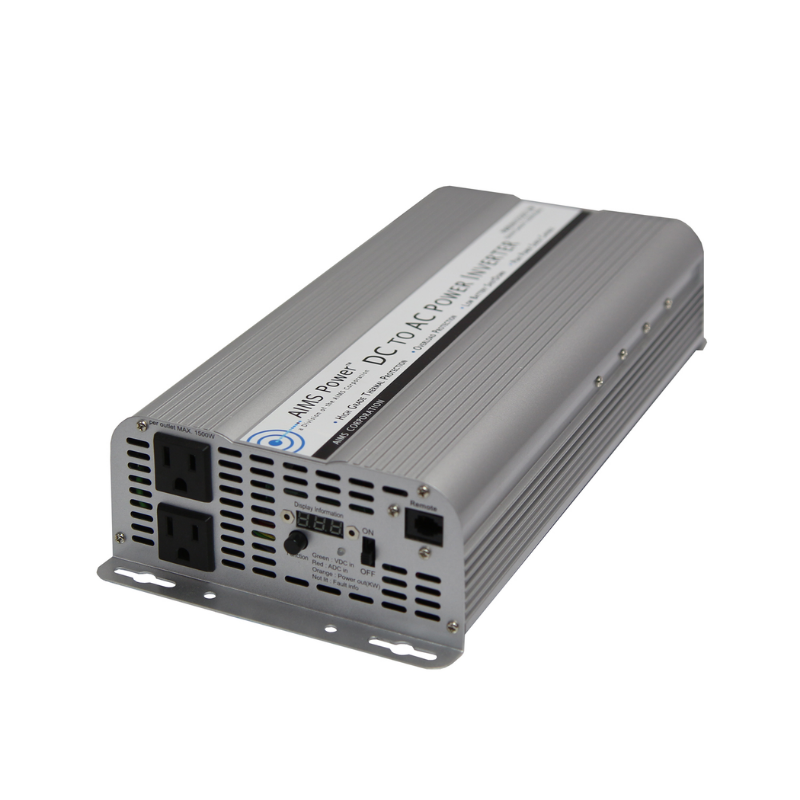 AIMS Power 2500 Watt Modified Sine Inverter 24 Volt
Description

Video

Features

Specifications

Manual

Why Buy From Us?

Price Match Guarantee
This 2500 watt 24 volt power inverter by AIMS Power converts DC (direct current) power stored by batteries into AC (alternating current) electricity that can be used to run practically any household appliances or tools.
This unit produces a modified sine wave, which is capable of running most  tools, pumps, motors and appliances. Use this product for off-grid back-up power at home, cabin, boat, or anywhere that doesn't have city power. 
What really makes this 2500 watt AIMS Power inverter special is its capability to run off at 24 volt DC which allows for more efficiency at higher loads.  This makes the inverter very attractive to users using a 24 volt DC source or multiple batteries. 
The biggest incentives for using inverters for electricity include the fact that they make little-to-no noise, making for a more peaceful environment for customers, and that they're non-polluting, which makes for a great green-energy marketing campaign.

The unit features two easily-accessible AC outlets with a maximum output of 1500 watts. The 200 percent surge capabilities of this unit should only be used as a safety feature. Other safety features include over-temperature and over-load LED indicators that are used as a warning system for the operator.  Also on the AC side of the unit are the battery voltage and amperage meters which display the usage levels of your battery bank. This inverter is equipped with dual cooling fans and over-temperature protection that keeps it from overheating.
Features:
2500W max continuous power
Modified sine wave
24 Volt DC inverter
Volt meter on front panel to monitor your battery voltage
Watt meter on front panel
LED indicator green/red that monitors ready/fault
Isolated ground neutral
Dual ac receptacles
On/off switch
Over Temperature protection
Over Load protection
Cooling fan operation thermally controlled
Internally fuse protected
AC output short circuit protection
Auto reset on most fault conditions
Aluminum case for optimal cooling
Pre-wired for remote on/off switch
Pre-slotted mounting plate
Instruction manual
Free 1 year tech support
1 Year Warranty Parts and Labor
Specifications:
Continuous output power: 2500 Watts. Use our 150 amp inline fuse.
Surge power capability (peak power): 5000 Watts
dc input / operating voltage: 20 to 30 Volts
Output voltage: 120 Volts ac +/- 10%
Output wave form: modified sine wave with phase correction
Output frequency: 60 Hz +/- 1 Hz
Battery low voltage shutdown: 20.0 +/- 0.5 V
No load current: < 0.6 Amps
DC amps: 104
AC amps: 21
Full load efficiency: 90%
1/3 load efficiency: 95%
Operating temperature: 30-150 degrees F (automatic shutdown)
AC Output Socket Type: dual Type 2 -3 prong
High input voltage protection: 30V-34V
Low input voltage shutdown: 20V
Internal fuse protection
Product size (D x W x H): 14.6" X 6.6" X3.3"
Weight: 6.2 lbs unit only
UL maximum recommended per outlet 1500W
We get it. You've got a lot of choice when it comes to online retailers.
Here's why we think you should shop with us at Outer Provisions.
Free Shipping USA wide. No extra charges. Ever.
Price Match Guarantee. Best prices online guaranteed.
30 Day Easy Returns. No happy with your product, we'll take it back no
questions asked.
Great Service. We pride ourselves on the best service, anywhere.
Your Satisfaction Guaranteed. We handpick our products for quality, we
know you'll love them. But if there is ever something wrong, we'll fix it.
We always aim to have the best prices available on our store. This is our
guarantee to you!

If you (somehow) find another online store with a lower price than us
please let us know, simply email us at sales@outerprovisions.com with a link to the same product on a competitor's website.

Once we have a chance to verify the pricing, we will match or beat the
price you found. No questions asked!

Please note that the price must be the total price, that includes any
shipping costs and taxes that may be charged by the comparison site.
For any further questions, view our Contact Us page.