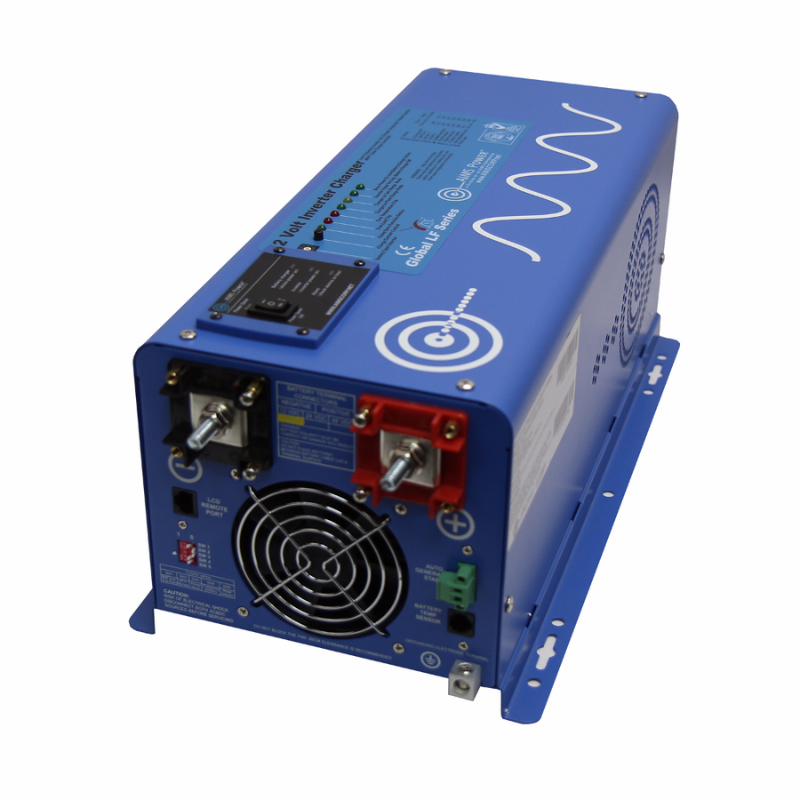 AIMS Power 2000 Watt Pure Sine Inverter Charger 12 Volt
Description

Video

Features

Manual

Why Buy From Us?

Price Match Guarantee
The 2000 watt 12 volt low frequency AIMS Power inverter charger transforms DC (direct current) power, stored by batteries, into AC (alternating current) electricity that can be used to run most all tools and appliances. This inverter also has a built in AC-to-DC battery converter charger and transfer switch, which allows users to recharge their battery bank from an AC source such as a fuel-powered generator, shore power or a regular outlet at home.
This 2000 watt low frequency AIMS Power inverter charger is three products in one.
The inverter transforms DC (direct current) power stored by batteries into AC (alternating current) electricity that can be used to power tools and appliances of all varieties.
A built-in 30 amp transfer switch, which will automatically detect when you're switching from shore power to battery-bank power.
It also has a built-in

 

70 amp battery charger

 

which uses AC power, like from the grid or from a fuel-powered generator, that can be used to recharge a battery bank as well. The battery-type selector on the top of the unit allows the ability to adjust the voltage provided to the bank.
Combine this inverter charger with a deep cycle battery bank for off-grid, mobile and emergency backup power.
Use this product for renewable solar, off-grid home and business, mobile and emergency backup power applications anywhere that uses 110 or 120 volts of alternating current. This product also has auto frequency detection that allows users to operate at either 50 or 60 hertz.

It boasts an average 10 millisecond transfer time with the built-in transfer switch. This is an awesome feature for use with backup power applications, as it makes the inverter a nearly uninterrupted power supply (UPS) when combined with a battery bank.

It's an industrial-grade unit with the ability to withstand surges of up to 6000 watts for 20 seconds, and  it achieves this by virtue of its direct connect terminal block. This feature is one of the more sought-after in the inverter industry, allowing users to surpass the 1,500 watt maximum output of a GFCI outlet that would typically be seen on an inverter.
This inverter also features a battery-type selector, which helps user regulate the voltage going into the battery bank. This capability can be a big money-saver since treating the battery bank properly will maximize its lifespan.

Use this inverter to power tools on a work truck, as it will run most electric chainsaws, portable grinders, shop vacs, and more.  Or use it to power appliances in your RV, as it won't produce any annoying noise or pollution.  

A low frequency label has been given to this inverter because of the heavy-duty transformer that provides a lowered level of total harmonic distortion (THD) (when compared to modified sine) produced during the DC-to-AC inversion process. This allows for a cleaner transfer of energy, which increases efficiency. It also provides a quieter, nearly inaudible performance.

The inverter also has conformal-coated (marine-coated) boards, making it marine-grade and resistant to dust and/or water vapor that may travel through the air and could otherwise be damaging to the unit. This feature is great for boating applications, like powering a stereo system, for instance.
Inverter Output Specifications:

30 Day Money Back Guarantee
1 year manufacturer warranty
Continuous Output Power: 2000 Watts
Surge Rating: 6000 Watts (20 Seconds)
Output Waveform: Pure Sine/Same as input (Bypass Mode)
Nominal Efficiency: >88% (Peak)
Line Mode Efficiency: >95%
Output Frequency: 50Hz +/- 0.3Hz / 60Hz +/- 0.3Hz
Bypass terminal breaker - 30 amps
Typical Transfer Time: 10ms (Max)
THD: < 10% DC
Ambient Operating Temperature: 14°F to 122°F (-10°C to 50°C)

Input Specifications

Nominal Input Voltage: 12.0Vdc
Minimum Start Voltage: 10.0Vdc
Low Battery Alarm: 10.5Vdc-11.0Vdc
Low Battery Trip: 10.0Vdc-10.5Vdc
High Voltage Alarm: 16.0Vdc
Low battery Voltage Restart: 13.3Vdc
Idle Consumption: 28 Watts
Charger Breaker - 20 amps
Power Saver Mode Idle Consumption: 12.7 watts

Charger Specifications

Output Voltage: Depends on battery Type
Charger Rate: 70A
Over Charge Protection Shutdown 15.7V
Selectable Charge setting based on battery type
Adjustable charge current off-20%-100%
Four Stage Smart Charger

Transfer Switch Specifications

30 amp automatic transfer switch
10 ms (max)

Dimensions

Unit Weight: 41 lbs.
Unit Size L x W x H: 16.48 x 8.74 x 7.1 inches
Shipping Weight: 53 lbs.
Shipping L x W x H 23.5 x 13.0 x 12.5 inches
We get it. You've got a lot of choice when it comes to online retailers.
Here's why we think you should shop with us at Outer Provisions.
Free Shipping USA wide. No extra charges. Ever.
Price Match Guarantee. Best prices online guaranteed.
30 Day Easy Returns. No happy with your product, we'll take it back no
questions asked.
Great Service. We pride ourselves on the best service, anywhere.
Your Satisfaction Guaranteed. We handpick our products for quality, we
know you'll love them. But if there is ever something wrong, we'll fix it.
We always aim to have the best prices available on our store. This is our
guarantee to you!

If you (somehow) find another online store with a lower price than us
please let us know, simply email us at sales@outerprovisions.com with a link to the same product on a competitor's website.

Once we have a chance to verify the pricing, we will match or beat the
price you found. No questions asked!

Please note that the price must be the total price, that includes any
shipping costs and taxes that may be charged by the comparison site.
For any further questions, view our Contact Us page.