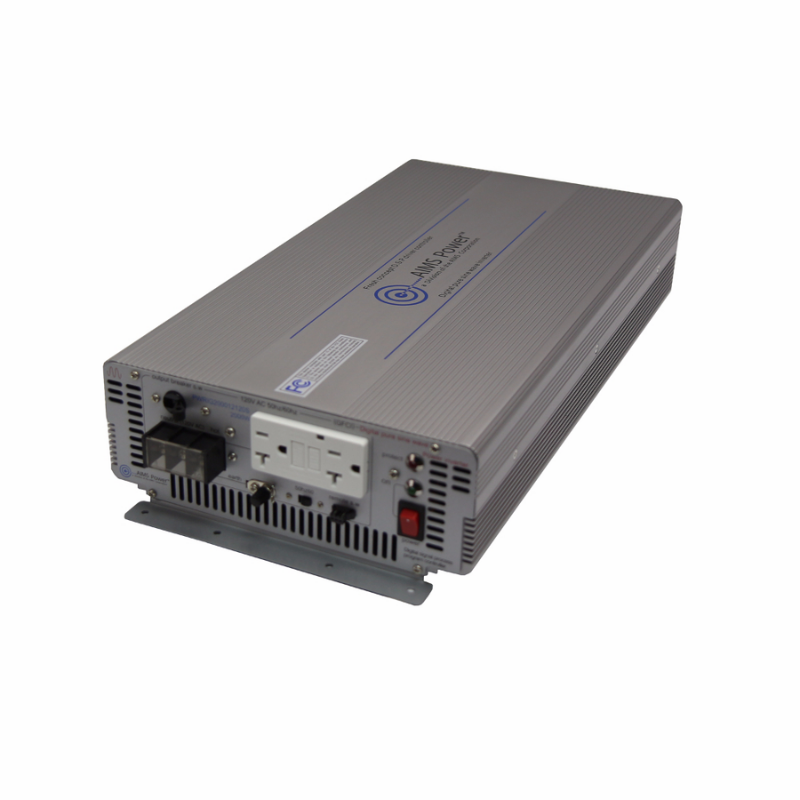 AIMS Power 2000 Watt Pure Sine Inverter 12 Volt - Industrial Grade
Description

Video

Features

Specifications

Manual

Why Buy From Us?

Price Match Guarantee
AIMS Power is proud to bring you this new 2000 Watt Pure Sine Power Inverter, designed for harsh environments, which has been completely overhauled and now boasts a dual GFCI outlet and is FCC certified.
This product also includes a thermally controlled fan, allowing for increased efficiency and less noise. It will continue to put out stable, pure sine power and maintain output voltage, even as you battery bank voltage decreases. High output performance is achieved through a DSP (Digital Signal Process) drive.
This inverter is ideal for running nonlinear loads (such as variable speed motors and small compressors). Pure sine power is also preferred for LaserJet printers, sensitive electronics, computer servers, microwaves, medical equipment, any with a circuit board and cordless drill battery chargers. An external battery voltage sensor will allow you to monitor your battery capacity and power consumption.
 
Packed with 2000 watts of power, this inverter can be used for off-grid home back up power systems, solar, boat, work vehicles and RVs. 
Features:
2000 Watt continuous power
4000 Watt surge
12 Volt DC input
Pure sine wave
60hz or 50hz switch
Highly efficient - improved ouptut at low voltage
1 - GFCI Dual Outlet
Connector and cable for remote on/off switch
Isolated ground & neutral
Short circuit protection (GFCI and AC Breaker)
On/off switch
5 Function Protection LED indicator
AC Breaker
DC volt meter included
Dual cooling fans thermally controlled
Instruction manual
1 year tech support
1 Year Warranty Parts and Labor replacement
Specifications:
Continuous output power: 2000 Watts
Surge power capability (peak power): 4000 Watts
DC input / operating voltage: 10.5-16 Volts
AC amps: 16
Output voltage: 120 Volts ac
Output voltage regulation: +/- 3%
Output wave form: pure sine wave
Output frequency: 50/60 Hz
Battery low voltage alarm: 10.5 +/- 0.5 Volts
Battery low voltage shutdown: 10.0 v +/- 0.5 Volts
No load power consumption: fan off <0.70 DC amps or fan on <1.05 DC amps
THD: <5%
Full load efficiency: 90%
1/3 load efficiency: 95%
No load minimum operating temperature: -4 degrees Farenheit
Full load maximum operating temperature: 176 degrees Farenheit (automatic shutdown)
GFCI Resetable AC Outlet
High input voltage shutdown: 17V
Low input voltage shutdown: 10V
Internal blade fuse protection
Product size (L x W x H): 16.54" x 8.86" x 3.50"
Weight: 12.13 lbs unit boxed 15 lbs
Includes DC volt meter
We get it. You've got a lot of choice when it comes to online retailers.
Here's why we think you should shop with us at Outer Provisions.
Free Shipping USA wide. No extra charges. Ever.
Price Match Guarantee. Best prices online guaranteed.
30 Day Easy Returns. No happy with your product, we'll take it back no
questions asked.
Great Service. We pride ourselves on the best service, anywhere.
Your Satisfaction Guaranteed. We handpick our products for quality, we
know you'll love them. But if there is ever something wrong, we'll fix it.
We always aim to have the best prices available on our store. This is our
guarantee to you!

If you (somehow) find another online store with a lower price than us
please let us know, simply email us at sales@outerprovisions.com with a link to the same product on a competitor's website.

Once we have a chance to verify the pricing, we will match or beat the
price you found. No questions asked!

Please note that the price must be the total price, that includes any
shipping costs and taxes that may be charged by the comparison site.
For any further questions, view our Contact Us page.