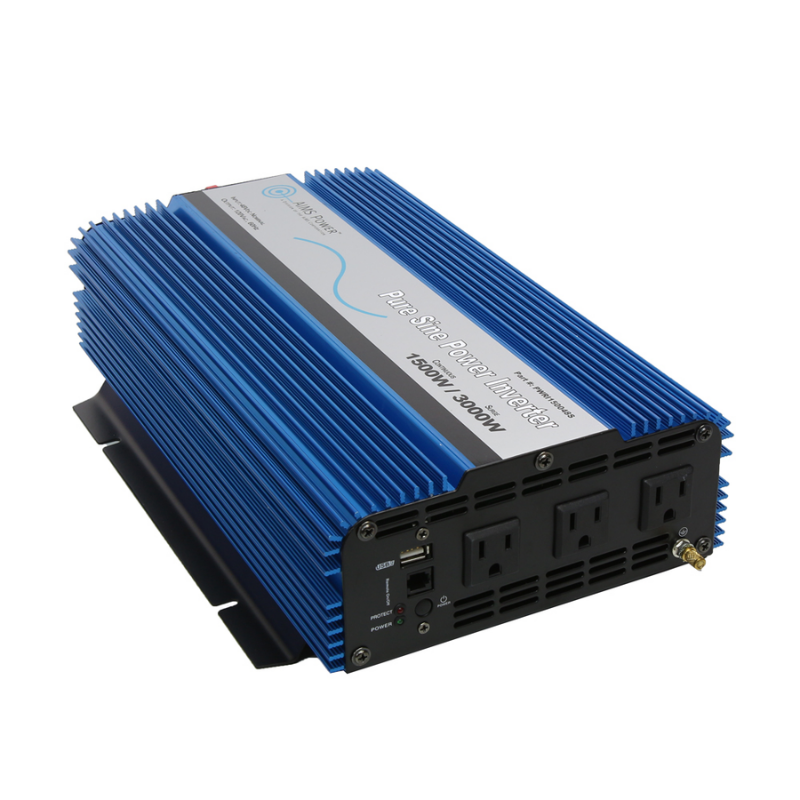 AIMS Power 1500 Watt Pure Sine Inverter 48 Volt
Description

Video

Features

Specifications

Manual

Why Buy From Us?

Price Match Guarantee
Power inverters have become a staple in businesses and homes around the world due to intermittent brown and black-outs. AIMS Pure Sine Wave Power Inverters provide reliable transformation of DC power from a battery (such as the one in a car or RV) into AC power that can then be used to run lights, computers, printers, televisions, medical equipment, and a broad range of appliances.
When it comes to selecting an inverter, it's helpful to know that AIMS pure sine wave inverters represent the most technologically advanced, lightweight, compact and diverse inverters on the market to help ensure the widest use of applications. For over a decade, the AIMS' Power has consistently delivered the broadest range of sizes to accommodate virtually every power requirement.
Here are some of the advantages of a pure sine inverter:
Equipment runs more efficiently

Motors run cooler
Cleaner power
Ideal for power tool chargers, laser printers, electric shavers, microwaves, variable speed motors, TV's, medical equipment
To select the right inverter - first, determine what devices you would need to run in the event of a power outage. Next, select the appropriate inverter that can carry the combined wattage requirements of these devices.
1500W continuous power
48 volt DC Input
Pure sine wave
USB Port
Triple ac receptacles
On/off switch
Over temperature indicator
Overload protection
Low battery voltage warning/shutdown
High input voltage protection with automatic shutdown
Over load indicator
Short circuit protection
Dual cooling fans thermally controlled
AC output short circuit protection
Instruction manual
Free 1 year tech support
1 Year Warranty Parts and Labor
Continuous output power  1500 watts
Surge power 3000 watts
Input voltage range 38-62v
Output voltage 120v
DC input 48v
Output wave form Pure sine wave 60Hz (THD ≤3%)\
Efficiency 90%
USB Output 5VDC, Max, 1A
Input over-voltage shutdown 62 ± 1VDC
Input under-voltage shutdown 38 ± 1VDC
Input under-voltage alarm 39.2 ± 1VDC
Over temperature protection 149 ± 8°F
Over-load protection 1700W ± 200W
No Load currents 0.5A
Working Temperature 32-104°F
Storage temperature 14-113°F
Intelligent cooling (the cooling fan will start running when the case temperature reaches 104°F)
Dimension (L x W x H) 15.875 x 8.375 x 3.875 in.
Unit Weight 10 lbs
Shipping weight 12 lbs
Remote port for optional remote
We get it. You've got a lot of choice when it comes to online retailers.
Here's why we think you should shop with us at Outer Provisions.
Free Shipping USA wide. No extra charges. Ever.
Price Match Guarantee. Best prices online guaranteed.
30 Day Easy Returns. No happy with your product, we'll take it back no
questions asked.
Great Service. We pride ourselves on the best service, anywhere.
Your Satisfaction Guaranteed. We handpick our products for quality, we
know you'll love them. But if there is ever something wrong, we'll fix it.
We always aim to have the best prices available on our store. This is our
guarantee to you!

If you (somehow) find another online store with a lower price than us
please let us know, simply email us at sales@outerprovisions.com with a link to the same product on a competitor's website.

Once we have a chance to verify the pricing, we will match or beat the
price you found. No questions asked!

Please note that the price must be the total price, that includes any
shipping costs and taxes that may be charged by the comparison site.
For any further questions, view our Contact Us page.