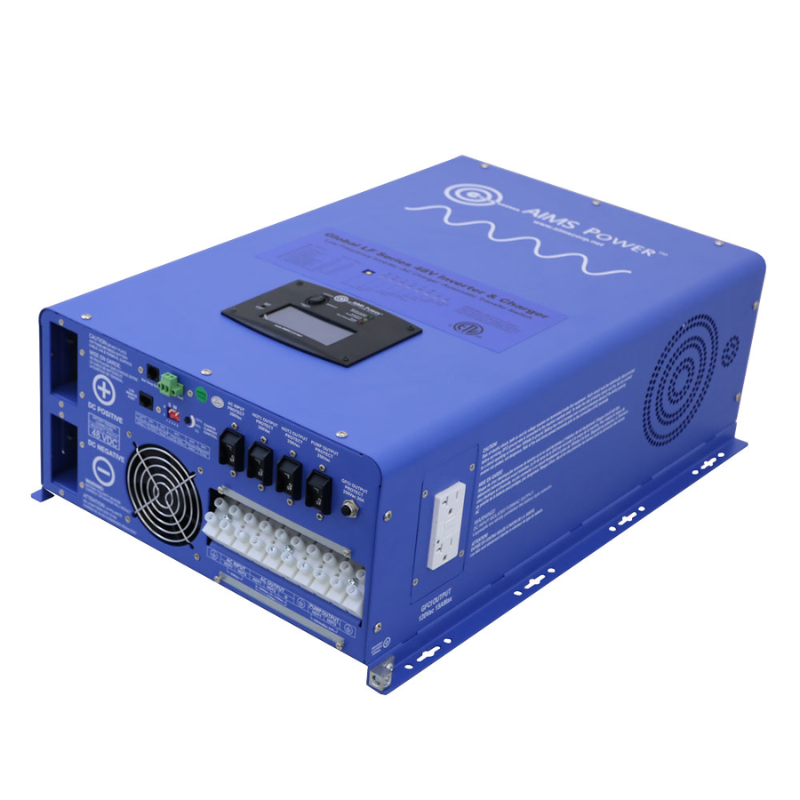 AIMS Power 12000 Watt Pure Sine Inverter Charger - 48VDC to 120/240VAC Split Phase - ETL Listed to UL 1741
Description

Video

Features

Specifications

Manual

Why Buy From Us?

Price Match Guarantee
The AIMS Power 12000 Watt Pure Sine Inverter Charger - 48VDC to 120/240VAC Split Phase - ETL Listed to UL 1741 is the power house for back up, off grid systems. Built with a 48 Volt DC input, these inverter chargers perform with very little power loss. Users receive a notable increase in efficiency in large systems when compared to using inverters that accept 12 or 24 volts. This can be an attractive feature for sustainability lovers looking to live as efficiently as possible.
The most common use for this inverter is emergency backup power for residences and businesses. You'll always be prepared for the next power outage with access of up to 12,000 watts of continuous power and 36,000 watts of surge (for up to 20 seconds). We recommend recharging your battery bank with AIMS Power solar panels — a cleaner form of power.
One of the most sought-after features this inverter has is the direct-connect terminal block, which allows users to surpass the 12Kw and harness its 300% surge power (up to 36Kw for 20 seconds as previously noted).
Have a hunting cabin or off-grid vacation home? This AIMS Power inverter charger is perfect for supplying reliable electricity to the entire house. This inverter is also built to withstand reasonable heat and temperature fluctuations because of its over-temperature protection and dual thermally-controlled fans. And it's protected from humidity or airborne dust and dirt by virtue of its marine-coated (or "conformal-coated") boards. This inverter provides the reliability needed in any business or residential emergency backup power application.
The inverter is a split-phase and will output 110/120 or 220/230/240 Vac, and it can output 50 or 60Hz via the SW4 dipswitch on the DC side of the product. This means that this inverter works internationally and is operable with nearly any electrical system on the planet! This beast of an inverter can pretty much get any job done imaginable. The development of this new DC-to-AC inverter technology puts this product in high demand among AIMS Power customers.
When you purchase a low frequency inverter charger from AIMS Power, you're getting our top-of-the-line product offering. The unit is repairable, and we stand behind it with a free two-year warranty and tech support. Make a step in the right direction when it comes to preserving this beautiful planet by choosing an inverter powered by renewable energy when building your next electrical system.
Features:

12000 watt low frequency inverter 110/220Vac Split Phase
36000 watt surge for 20 seconds -3x surge capability
Battery priority selector
Terminal block
Marine coated and protected
Multi stage smart charger 120 Amp charges gel, lead, AGM, and lithium (LiFePO4)
Remote panel available
60hz or 50 hz selectable dip switch
10msec typical transfer time
Selectable 25W power save mode (hibernation)
8 battery charger settings
Automatic transfer switch
Inverter Output Specifications:
Continuous Output Power: 12,000 Watts
Surge Rating: 36000 Watts (20 Seconds)
Output Waveform: Pure Sine/Same as input (Bypass Mode)
100-110-120Vac / 220-230-240Vac
Nominal Efficiency: >88% (Peak)
Line Mode Efficiency: >95%
Output Frequency: 50Hz +/- 0.3Hz / 60Hz +/- 0.3Hz
Typical Transfer Time: 10ms (Max)
THD: < 10% DC
Ambient Operating Temperature: 14°F to 122°F (-10°C to 50°C)

Input Specifications
Nominal Input Voltage: 48.0Vdc
Low Battery Alarm: 42.0Vdc-44.0Vdc
Low Battery Trip: 40.0Vdc-42.0Vdc
High Voltage Alarm: 64.0Vdc
Low Battery Voltage Restart: 62.0Vdc
Idle Consumption: 200 Watts
Power Saver Mode Idle Consumption: 40 Watts
Automatic Transfer Switch - 63A @ 220/230/240V
Bypass - 63A @ 220/230/240V

Charger Specifications
Output Voltage: Depends on battery Type
Charger Rate: 120A
Four Stage Smart Charger with Current Adjust Dial: 0%-20%-100%

Dimensions
Unit Weight: 174 lbs.
Unit Size L x W x H: 23.3 x 16.3 x 7.9 inches
Shipping Weight: 200 lbs.
Shipping L x W x H 30 x 21.25 x 15.25 inches
We get it. You've got a lot of choice when it comes to online retailers.
Here's why we think you should shop with us at Outer Provisions.
Free Shipping USA wide. No extra charges. Ever.
Price Match Guarantee. Best prices online guaranteed.
30 Day Easy Returns. No happy with your product, we'll take it back no
questions asked.
Great Service. We pride ourselves on the best service, anywhere.
Your Satisfaction Guaranteed. We handpick our products for quality, we
know you'll love them. But if there is ever something wrong, we'll fix it.
We always aim to have the best prices available on our store. This is our
guarantee to you!

If you (somehow) find another online store with a lower price than us
please let us know, simply email us at sales@outerprovisions.com with a link to the same product on a competitor's website.

Once we have a chance to verify the pricing, we will match or beat the
price you found. No questions asked!

Please note that the price must be the total price, that includes any
shipping costs and taxes that may be charged by the comparison site.
For any further questions, view our Contact Us page.