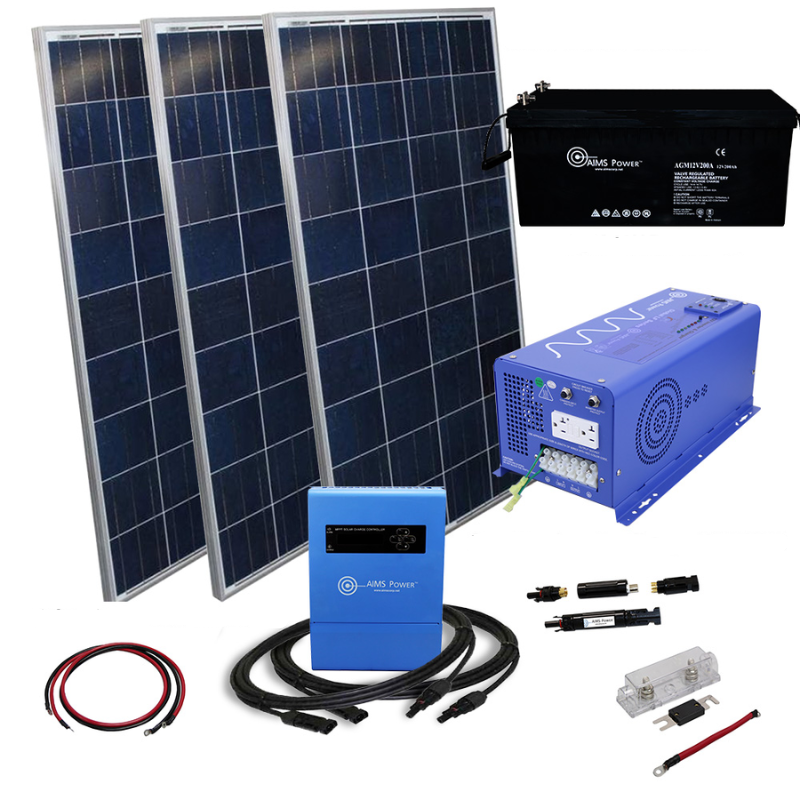 AIMS Power 570 Watt Solar with 2000 Watt Inverter Charger Off Grid Kit
Description

Kit Includes

Why Buy From Us?

Price Match Guarantee
The kit is deal for medium size devices such as refrigerators, tools, freezers and electronics up to 16 amps. Solar panels keep a trickle charge on the battery with sunlight and will recharge a battery at 50% depletion in <2 hours in full sun. Add more panels for a faster charge.
570 Watt Solar

2000 Watt pure sine inverter charger
200 amps of battery power and 60 amp charger controller
*Please note there may be pieces of the kit on back order and will let you know as stock levels fluctuate*
This solar kit includes:
PICOGLF20W12V120VR – 2000 watt pure sine inverter charger 16.5 amps 
PV190MONO – qty 3 – 190 watt mono solar panel @30 SQ FT
SCC60AMPPT – 60 amp MPPT solar charge controller
AGM12V200A – qty 1 – 200 ah AGM deep cycle battery
100 foot 10AWG PV wires for solar panels to charge controller male & female
8ft set of cables from charge controller to battery bank
6 ft set of 4WG cable from battery bank to inverter
200 amp inline fuse kit for inverter/battery
Solar inline fuse for solar panels
Weight = 250 lbs.
We get it. You've got a lot of choice when it comes to online retailers.
Here's why we think you should shop with us at Outer Provisions.
Free Shipping USA wide. No extra charges. Ever.
Price Match Guarantee. Best prices online guaranteed.
30 Day Easy Returns. No happy with your product, we'll take it back no
questions asked.
Great Service. We pride ourselves on the best service, anywhere.
Your Satisfaction Guaranteed. We handpick our products for quality, we
know you'll love them. But if there is ever something wrong, we'll fix it.
We always aim to have the best prices available on our store. This is our
guarantee to you!

If you (somehow) find another online store with a lower price than us
please let us know, simply email us at sales@outerprovisions.com with a link to the same product on a competitor's website.

Once we have a chance to verify the pricing, we will match or beat the
price you found. No questions asked!

Please note that the price must be the total price, that includes any
shipping costs and taxes that may be charged by the comparison site.
For any further questions, view our Contact Us page.