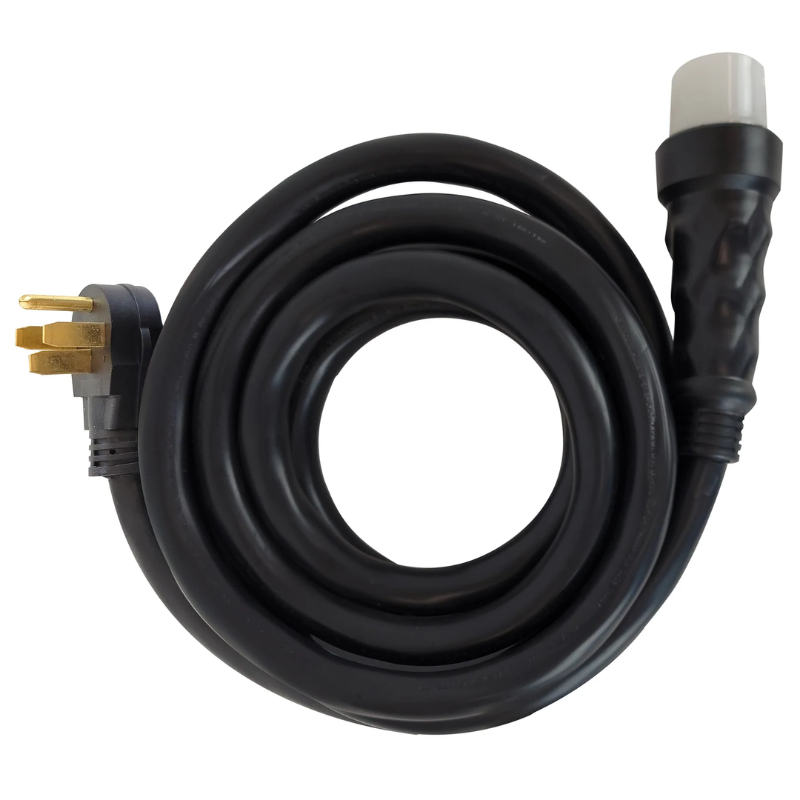 50-Amp 15-Foot 6-Gauge Generator Power Cord
Description

Specs

Why Buy From Us?

Price Match Guarantee
50-Amp 15-Foot 6-Gauge 14-50 CS6364 Heavy Duty Generator Power Cord for Home Power Backup
The DuroMax XP5015GC is our robust 50-amp 15 ft 6-gauge heavy duty 14-50 generator power cord for home backup. This generator power cord features a 100% copper wire for better power quality, an STW jacket rating for durability, grounded plugs for safe operation, reinforced blades minimize bending of prongs, and standard CS6364 to hook directly to most 50 amp transfer switch types.

Power Your Whole Home
This 50 Amp Generator Cord is perfect for home power backup and is outdoor rated for safe use.
Ideal For Home Power Backup
Plug your generator directly to your home transfer switch via a 50A CS6364 Inlet (not included). Fits all generators with a 240V 50A (14-50) output.
Heavy Duty Construction
Made with durability in mind. Equipped with a durable STW jacket, reinforced blades, and grounded plugs.
Warranty
DuroMax stands behind this product with a 1 Year parts and technical service warranty. Our USA based teams are available to help walk-through, troubleshoot or diagnose. Nationwide service centers fix any issues - DuroMax has you covered!
Click Here to read more about the warranty
XP5015GC Specifications
Specifications
Manufacturer
DuroMax Power Equipment
Part #
XP5015GC
Length
15 ft.
Gauge
6 AWG
Voltage
240V
Amperage Rating (Up To)
50A
Male Connector Type
14-50P
Female Connector Type
CS6364
Wire Material
100% Copper
Jacket Rating
SJT
Cord Rating
Heavy Duty
Cable Temp Rating
-40°F to 140°F
Grounded
Yes
Outdoor Rated
Yes
Cord Color
Black
Product Weight
13.19-lbs
UPC
811640016517
Warranty
1 Year
What's in the Box?
DuroMax XP5015GC and Owner's Manual
We get it. You've got a lot of choice when it comes to online retailers.
Here's why we think you should shop with us at Outer Provisions.
Free Shipping USA wide. No extra charges. Ever.
Price Match Guarantee. Best prices online guaranteed.
30 Day Easy Returns. No happy with your product, we'll take it back no
questions asked.
Great Service. We pride ourselves on the best service, anywhere.
Your Satisfaction Guaranteed. We handpick our products for quality, we
know you'll love them. But if there is ever something wrong, we'll fix it.
We always aim to have the best prices available on our store. This is our
guarantee to you!

If you (somehow) find another online store with a lower price than us
please let us know, simply email us at sales@outerprovisions.com with a link to the same product on a competitor's website.

Once we have a chance to verify the pricing, we will match or beat the
price you found. No questions asked!

Please note that the price must be the total price, that includes any
shipping costs and taxes that may be charged by the comparison site.
For any further questions, view our Contact Us page.