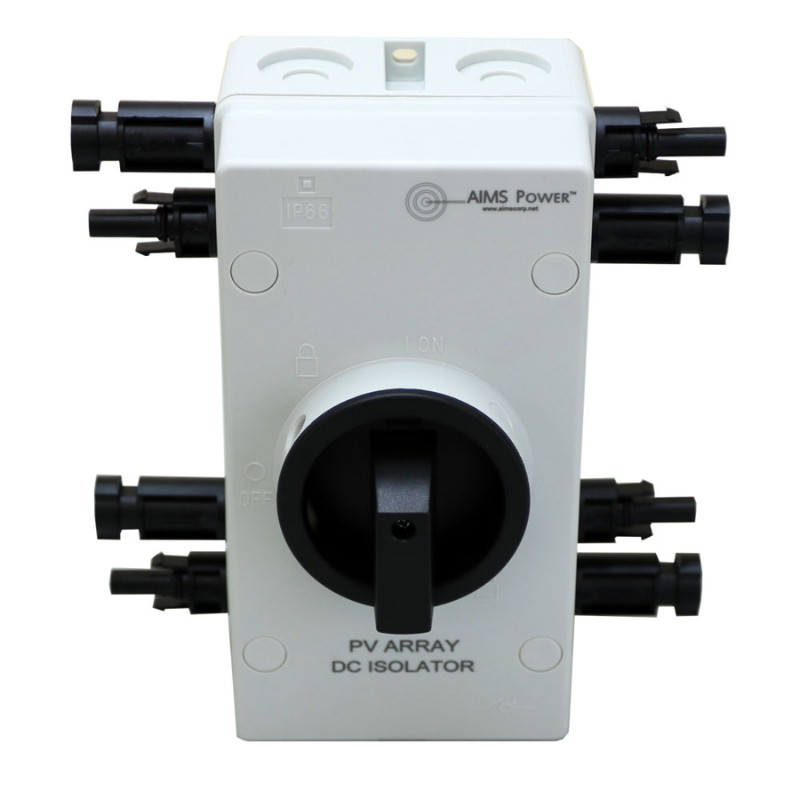 AIMS Power Solar PV DC Quick Disconnect Switch 1600V 64 Amps
Description

Video

Specs

Manual

Why Buy From Us?

Price Match Guarantee
The AIMS quick disconnect gives your solar system extra safety and flexibility when maintaining your system. New installations of solar photovoltaic systems have increased the need for disconnect switches and overcurrent protective devices capable of interrupting currents at voltages up to 600 Vdc. Some US locations require a disconnect switch.
PV system arrays generate DC current and need to be disconnected for maintenance or  safety. The AIMS quick disconnect switch is also ideal for applications such as cabins or vacation homes that don't require delivery of constant solar power. Simply disconnect your solar array and reconnect when needed. 
Features
Quickly disconnect DC power from your solar array to the charge controller, batteries and/or inverter
Outdoor rated
Off and on grid applications
Isolated
SAFE-LOCK with three rotational positions reducing the risk of tampering
Double pull double throw 2IO
Ensures the disconnection of load circuits and suppression of the arc in under 5 mil secs.
Lock out option
2 separate circuits
Max combined amperage - 64 amp (2 separate 32 amp solar circuits or 1 64 amp solar circuit)
Output and input connections are MC4 compatible for easy set up and install
Specifications
2 - 32 amp circuits
Up to 1600 volts @ 64 amps
4 pole and 2 strings
CE,TUV, SAA, IEC, UL certified & ROHS compliant
Outdoor rated
Non-corrosive
UV resistance UL 746C
Waterproof
Arc time <2ms
-40 degrees C to 70 degrees C
10 year warranty
Dimensions: 7"H x 7"W x 4.375" D
We get it. You've got a lot of choice when it comes to online retailers.
Here's why we think you should shop with us at Outer Provisions.
Free Shipping USA wide. No extra charges. Ever.
Price Match Guarantee. Best prices online guaranteed.
30 Day Easy Returns. No happy with your product, we'll take it back no
questions asked.
Great Service. We pride ourselves on the best service, anywhere.
Your Satisfaction Guaranteed. We handpick our products for quality, we
know you'll love them. But if there is ever something wrong, we'll fix it.
We always aim to have the best prices available on our store. This is our
guarantee to you!

If you (somehow) find another online store with a lower price than us
please let us know, simply email us at sales@outerprovisions.com with a link to the same product on a competitor's website.

Once we have a chance to verify the pricing, we will match or beat the
price you found. No questions asked!

Please note that the price must be the total price, that includes any
shipping costs and taxes that may be charged by the comparison site.
For any further questions, view our Contact Us page.