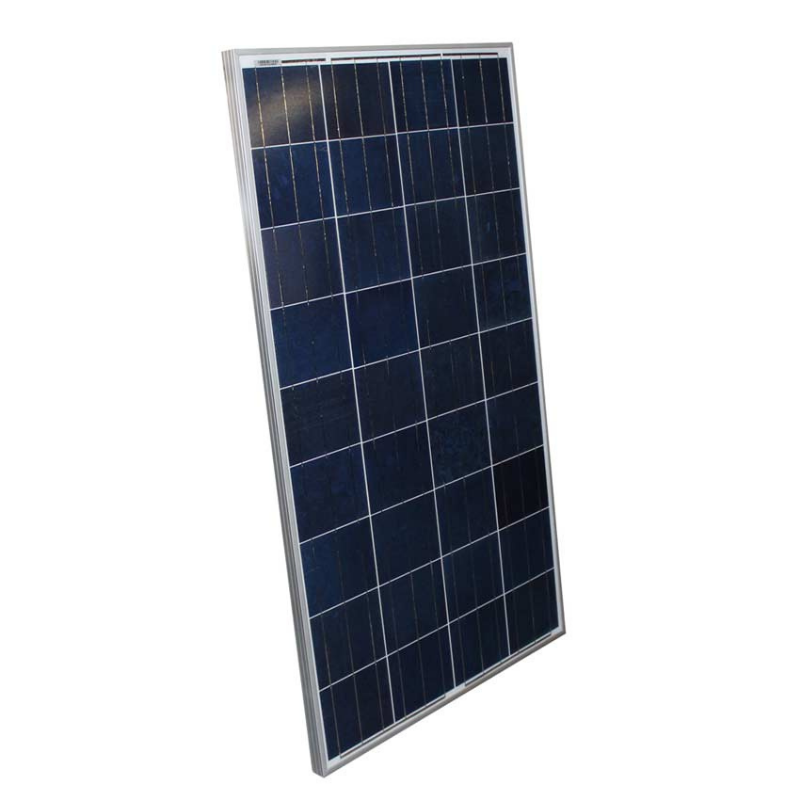 AIMS Power 190-Watt Solar Panel Monocrystalline - PV190MONO
Description

Specifications

Warranty

Manual

Why Buy From Us?

Price Match Guarantee
The 190 Watt Monocrystalline Solar Panel from AIMS Power is a versatile performer constructed with tempered glass and a stronger surface to protect from harsh weather conditions. The solar cells used in this panel provide high light transmission and the textured glass allows for a more efficient panel.
The panel also includes a bypass diode that minimizes the power drop caused by shade. Easy to install using the pre-drilled holes on the aluminum outer frame. Perfect for home, vehicle and RV installations and industrial applications.
    Monocrystalline efficient solar harvesting
    Strong surface for harsh environment
    Panels capable of 0 to +3 Watts over rated capacity
    Pre-drilled aluminum frame
    Temperated glass
Maximum Power (Watts): 190 watts 
(Vmp): 18.7 volts  operating voltage
(Imp): 10.16 amps operating current
(Voc): 22.44 volts open circuit voltage
(Isc): 10.92 amps
Solar Cell: 156mm x 52mm 
Number of Cells (pcs): 12*3 = 36
Front Glass Thickness (mm): 3.2 mm
Temperature Coefficients of Isc (%) °C: -0.048
Temperature Coefficients of Voc (%) °C: -0.29
Temperature Coefficients of Pm (%) °C: -0.37
Temperature Range: -40°C to +80°C
Tolerance Wattage: 0-3 watts 
Surface Maximum Load Capacity: 6000Pa snow and 3600Pa wind
Allowable Hail Load: 45mm at 30.7m/s
Bypass Diode Rating (A): 10
Cell Efficiency (%): 21.69%
Module Efficiency (%): 19.16%
Warranty: 91.2% of 12 years, 80.6% of 25 years
Weight Per Panel (lbs): 26.5 lbs
Dimensions (inches): 58.25 x 26.5 x 1.37
We get it. You've got a lot of choice when it comes to online retailers.
Here's why we think you should shop with us at Outer Provisions.
Free Shipping USA wide. No extra charges. Ever.
Price Match Guarantee. Best prices online guaranteed.
30 Day Easy Returns. No happy with your product, we'll take it back no
questions asked.
Great Service. We pride ourselves on the best service, anywhere.
Your Satisfaction Guaranteed. We handpick our products for quality, we
know you'll love them. But if there is ever something wrong, we'll fix it.
We always aim to have the best prices available on our store. This is our
guarantee to you!

If you (somehow) find another online store with a lower price than us
please let us know, simply email us at sales@outerprovisions.com with a link to the same product on a competitor's website.

Once we have a chance to verify the pricing, we will match or beat the
price you found. No questions asked!

Please note that the price must be the total price, that includes any
shipping costs and taxes that may be charged by the comparison site.
For any further questions, view our Contact Us page.