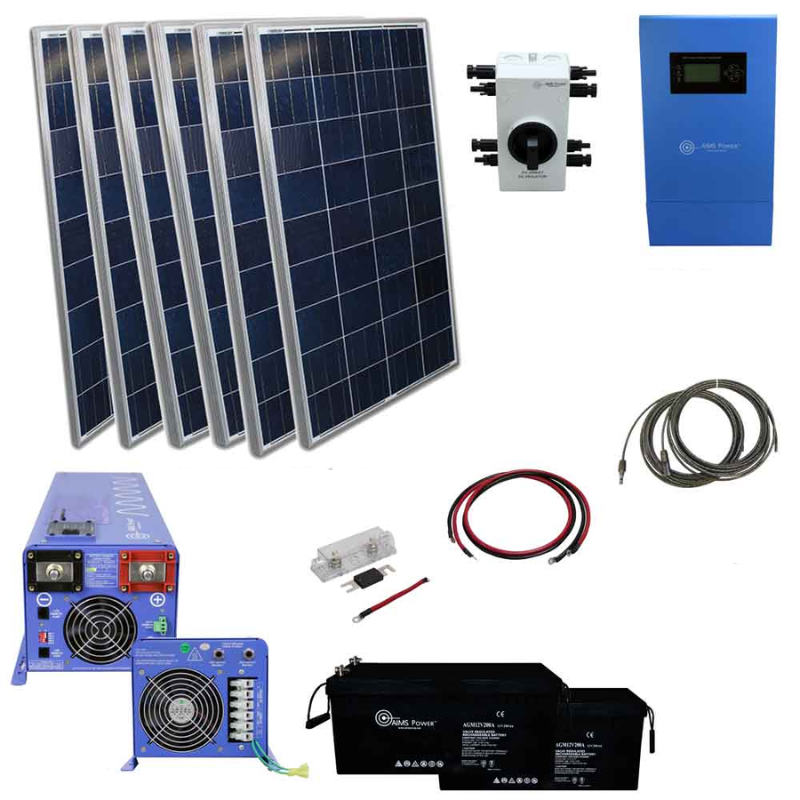 720 Watt Off Grid Solar Kit with 4000 Watt Pure Sine Inverter Charger 120/240 VAC 48VDC
Description

Kit Includes

Why Buy From Us?

Price Match Guarantee
AIMS Power introduces the new all-in-one solar kit for all of your off grid power needs. Whether you're supplying power to an off-grid home/cabin or looking for a back-up power source for a small business , this solar kit includes all necessary products required bundled for your convenience. 
The 720 watt solar kit includes an pure sine inverter charger that has a built in battery charger to recharge the batteries when 240 Vac city or generator power is available.  The 4000 watt pure sine inverter charger can power 110/120 and 220/230/240 Volt appliances, electronics, tools and pumps.
The panels are covered in tempered glass to protect from hazardous weather. The PV wiring is protected against UV, water, ozone, fluids, oil, salt and general weathering. The 12 Volt 200 amp AGM deep cycle batteries provide quality power.  Each system comes with a wiring diagram upon purchase.
The solar panels keep a charge on the batteries using sunlight and will recharge the 800 amp battery bank at 50% depletion in less than 7 hours in full sun.
Features
Easy to connect and use
Works with devices up to 4000 watts/ 33.3 AC amps 110/120VAC or 16.6 amps 240VAC
Ideal for any equipment that needs off grid power
Perfect for a small home, cabin or business.
720 Watt solar
4000 Watt inverter charger provides 120 & 240 Vac 48VDC power
200 amps of power per battery
40 amp charge controller
Ideal for large devices such as appliances, fans, pumps, compressors, and electronics up to 33.3 amps
Good for locations that have a generator or shore power to recharge batteries using the inverter
*Please note there may be pieces of the kit on back order and will let you know as stock levels fluctuate*
PICOGLF40W48V240VS – 4000 watt pure sine inverter charger 120 & 240 VAC 48VDC – runs cooler and efficient
PV120MONO – qty 6 – 120 watt solar panels @40 SQ FT
DC1600V32A2I0 – disconnect switch
SCC40AMPPT – 40 amp MPPT solar charge controller
AGM12V200A – qty 4 – 200 ah AGM deep cycle battery
PVF100FT10AWG – 100 foot PV wire for solar panel to disconnect switch (female)
PVM100FT10AWG – 100 foot PV wire for solar panel to disconnect switch (male)
PV-F15 – Solar inline fuse 15 amp
PVF20FT10AWG – male and female for disconnect switch to charge controller
PICGLFBATS – Battery temperature sensor
CBL08FT6AWGC- 8 ft set of 6 AWG cable to connect charge controller to battery bank
ANL50KITJ – 50 amp fuse kit for charge controller to battery bank
CBL08FT4AWG – 8 ft set of 4 AWG cable set battery bank to inverter
ANL150KITWJUMP – 150 amp inline fuse kit with jumper for batteries to inverter
3 jumpers for series battery connection 4 AWG
We get it. You've got a lot of choice when it comes to online retailers.
Here's why we think you should shop with us at Outer Provisions.
Free Shipping USA wide. No extra charges. Ever.
Price Match Guarantee. Best prices online guaranteed.
30 Day Easy Returns. No happy with your product, we'll take it back no
questions asked.
Great Service. We pride ourselves on the best service, anywhere.
Your Satisfaction Guaranteed. We handpick our products for quality, we
know you'll love them. But if there is ever something wrong, we'll fix it.
We always aim to have the best prices available on our store. This is our
guarantee to you!

If you (somehow) find another online store with a lower price than us
please let us know, simply email us at sales@outerprovisions.com with a link to the same product on a competitor's website.

Once we have a chance to verify the pricing, we will match or beat the
price you found. No questions asked!

Please note that the price must be the total price, that includes any
shipping costs and taxes that may be charged by the comparison site.
For any further questions, view our Contact Us page.