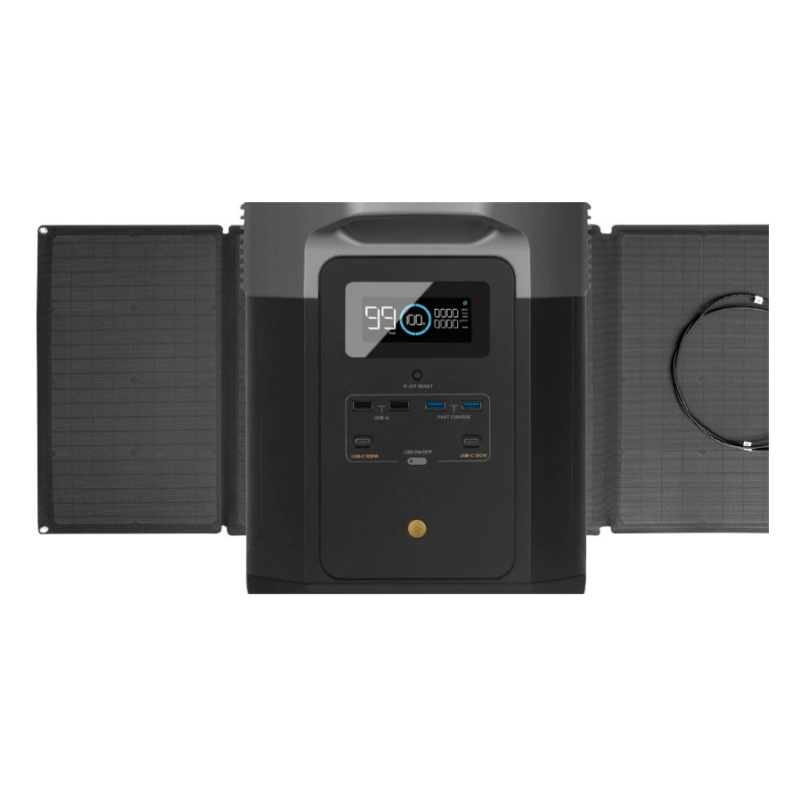 EcoFlow DELTA Max + 160W Solar Panel
Description

Specifications

FAQs

Why Buy From Us?

Price Match Guarantee
 Backup your home during power outages with DELTA Max. With an expandable capacity that reaches up to 6kWh, dual charging, and the ability to power your home devices, you can stay powered on in any situation.
Home emergency power
DELTA Max expands up to 6kWh with smart extra batteries, keeping your home powered on in any emergency.
Rapid dual charging Charge up from 0-80% in 65 minutes. Or get up to 3400W speeds by combining AC charging and the EcoFlow Smart Generator.
Power multiple devices Looking for something to power heavy-duty devices like your fridge and dryer? With X-Boost, DELTA Max handles devices up to 3400W with ease.
Portable solar generator Stay powered on no matter what. DELTA Max connects with up to 2x 400W EcoFlow solar panels to deliver 800W Max solar charging speeds.
Expandable home backup power.
A single DELTA Max unit packs a 2kWh capacity that is expandable up to 6kWh with DELTA Max smart extra batteries. This means when a blackout hits, you can continue to power your important home devices such as your fridge and lights for hours on end.
Convenient and fast dual charging.
DELTA Max charges up safely and rapidly from 0-80% in just 65 minutes. And it gets even better. If you're looking for an even faster way to charge up DELTA Max, you can combine AC with the smart generator to get up to 3400W, AC with solar to get up to 2600W, or the Smart Generator with solar to get up to 2600W.*
Power 99% of your home devices.
With EcoFlow's X-Boost technology, DELTA Max can power heavy-duty devices up to 3400W. That means during a power outage or blackout, you can continue to power your fridge, dryer, and more. That's the industry gold standard for a portable power station of this size and capacity.
Harness the power of the sun.
DELTA Max connects with up to 2x 400W EcoFlow solar panels to deliver 800W Max solar charging speeds. With a voltage range from 11-100V and the MC4 connector, you can also connect other solar panels to your DELTA Max. Even during cold or cloudy days, our smart maximum power point tracking (MPPT) algorithm automatically detects voltage and current in real time to give you optimum solar generation throughout the day.
Emergency backup power.
Disasters can occur at any time of the year, sometimes lasting longer than we ever expected. When extended blackouts hit, the EcoFlow Smart Generator serves as an emergency option that integrates with DELTA Max. It auto-starts when your DELTA Max hits a low level of charge, recharges your DELTA Max, and stops the engine all by itself once your DELTA Max hits a full charge. This gives you a reliable emergency backup option that relies on minimum use of a generator.
Control, monitor, and manage your energy use.
Control and monitor your DELTA Max with the EcoFlow app. Dive into the settings to customize your power use or control DELTA Max remotely.
Multiple ways to charge.
There are multiple ways to charge DELTA Max wherever you are. If you're at home, plug into an AC wall outlet or solar panels. If you're out and about, charge DELTA Max in your car or use solar panels if you've set up camp. In extreme emergencies during power outages, connect the DELTA Max to the Smart Generator for a last-standing power source.
Specifications ( DELTA Max 2000)
| | |
| --- | --- |
| Capacity | 2016Wh |
| AC Output | 6 outlets, 2400W total (Surge 5000W) |
| USB-A Output | 2 ports, 5V, 2.4A, 12W Max per port |
| USB-C Output | 2 ports, 5/9/12/15/20V, 5A, 100W Max per port |
| DC5521 Output | 2 ports, 12.6V, 3A, 38W Max per port |
| Solar Charging Input | 800W Max, 11-100V, 13A |
| Battery Chemistry | NCM |
| Shelf Life | 1 year (after a full charge) |
| Net Weight | Approx. 48lbs |
| Extra Battery | Support up to two DELTA Max Smart Extra Battery/Smart Generator |
| Max Device(s) Power Supported by X-Boost | 3400W |
| USB-A Fast Charge | 2 ports, 5V, 2.4A / 9V, 2A / 12V, 1.5A, 18W Max per port |
| Car Power Output | 12.6V, 10A, 126W Max |
| AC Charging Input | 1800W Max, 15A |
| Car Charging Input | Support 12V/24V battery, 8A |
| Cycle Life | 800 cycles to 80% capacity |
| Connection | Wi-Fi |
| Dimension | 19.6*9.5*12 in |
Specifications (160W Solar Panel)
| | |
| --- | --- |
| Unfolded Dimensions | 26.8*61.8*1.0 in (68*157*2.4 cm) |
| Folded Dimensions | 26.8*16.5*1.0 in (68*42*2.4 cm) |
| Weight | 15.4 lbs (7.0KG)  Solar Panel 11 lbs (5.0KG) |
| Warranty | 12 Months |
| Rated Power | 160W(+/-5W)* |
| Efficiency | 21%-22% |
| Connector Type | MC4 |
| Open Circuit Voltage | 21.4V(Vmp 18.2V) |
| Short Circuit Current | 9.6A(Lmp 8.8A) |
| Cell Type | Monocrystalline Silicon |
| Operating & Storage Temperature | -4° F to 185° F (-20° C to 85° C) |
How many solar panels can I use at the same time with DELTA Max?

It depends on the total voltage and watts of solar panels you choose. As long as the solar panels use MC4 connector and its voltage and current are under 11-100V, 10A max range.

What's the max input for DELTA Max?

When charging DELTA Max and its extra battery together, you can reach 3600W max charging speeds by combining any two methods of AC, solar and Smart Generator. For DELTA Max single unit, you can recharge it at standard wall outlets (1800W max), or combine AC and solar charging to reach max 2000W charging speeds.

How the Emergency Power Supply (EPS) work? How fast is it?

When your portable power station is plugged into the wall, any electronics plugged into it are powered from the grid and not its battery. When power from the grid stops, as in a blackout, the power station automatically switches to battery power within 30ms.

What's the water-resistance rating for this product?

DELTA Max is not water-resistance, so it should be kept away from liquids. Or if you're looking for water-resistance solution, you can purchase the DELTA Max case to water-resistance protection.
We get it. You've got a lot of choice when it comes to online retailers.
Here's why we think you should shop with us at Outer Provisions.
Free Shipping USA wide. No extra charges. Ever.
Price Match Guarantee. Best prices online guaranteed.
30 Day Easy Returns. No happy with your product, we'll take it back no
questions asked.
Great Service. We pride ourselves on the best service, anywhere.
Your Satisfaction Guaranteed. We handpick our products for quality, we
know you'll love them. But if there is ever something wrong, we'll fix it.
We always aim to have the best prices available on our store. This is our
guarantee to you!

If you (somehow) find another online store with a lower price than us
please let us know, simply email us at sales@outerprovisions.com with a link to the same product on a competitor's website.

Once we have a chance to verify the pricing, we will match or beat the
price you found. No questions asked!

Please note that the price must be the total price, that includes any
shipping costs and taxes that may be charged by the comparison site.
For any further questions, view our Contact Us page.