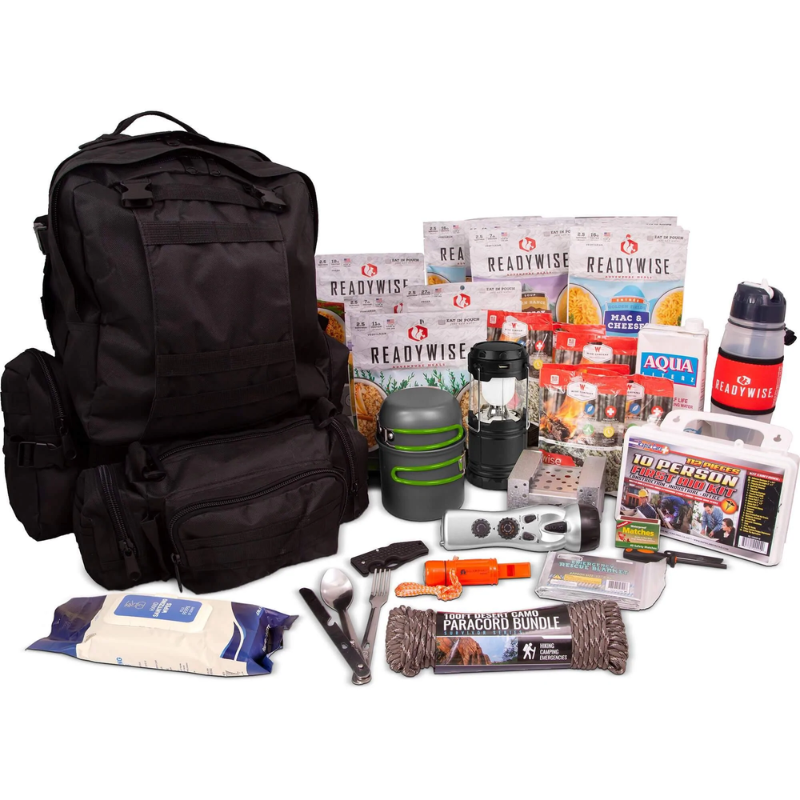 ReadyWise 3-Day Emergency Survival Backpack
Description

Why Buy From Us?

Price Match Guarantee
ReadyWise Preparation Backpack
When emergencies hit, you want to be prepared. That's what this ReadyWise Survival Backpack is all about. It is filled with many essential items such as 30 servings of emergency food, a first aid kit, a multipurpose flashlight, a rechargeable lantern, a water filtration bottle, cooking essentials and much more (148 pieces).
Rather than having to hours upon hours of research, this backpack combines much of the essentials. It's also special because it doesn't require much room and can fit inside of the single backpack!
What's Included:
Food and Drink:
30 Total Servings
Appalachian Apple Cinnamon Cereal
Sunrise Strawberry Granola Crunch
Daybreak Coconut Blueberry Multi-Grain
Golden Fields Mac & Cheese (2 Pouches)
Switchback Spicy Asian Style Noodles
Backcountry Wild Rice Risotto
Summit Sweet Potato Curry
Open Range Cheesy Potato Soup (2 Pouches)
Basecamp Four Bean & Vegetable Soup (2 Pouches)
Aqua Literz Water
First Aid & Hygiene
112-Piece First Aid Kit

Sanitizing Wipes (50 Pack)
Other Emergency Supplies
4-In-1 Flashlight: Hand Crank Flashlight, AM/FM Radio, Panic Alarm, & Mobile Phone Charger
Mylar Emergency Blanket
Rechargeable LED Lantern
Paracord Bundle (100 Feet)
5-In-1 Survival Whistle
Foldable Knife
Portable Stove & 24 Fuel Tablets
Cooking Pot Set
4-In-1 Utensil Set (Spoon, Fork, Knife, & Bottle Opener)
Seychelle Water Filtration Bottle
Fire Starter (Flint & Striker)
Waterproof Matches
Wise Fire Starter (6 Pouches)
Additional Details
148 Total Pieces
Includes Waterproof Tactical Backpack
Eat-In Pouches
Each Pouch Contains 2.5 Servings
As you can see from the extensive list, the backpack contains a solid list of emergency items. Store the backpack in your house or car and be prepared for any situation that comes your way!
We get it. You've got a lot of choice when it comes to online retailers.
Here's why we think you should shop with us at Outer Provisions.
Free Shipping USA wide. No extra charges. Ever.
Price Match Guarantee. Best prices online guaranteed.
30 Day Easy Returns. No happy with your product, we'll take it back no
questions asked.
Great Service. We pride ourselves on the best service, anywhere.
Your Satisfaction Guaranteed. We handpick our products for quality, we
know you'll love them. But if there is ever something wrong, we'll fix it.
We always aim to have the best prices available on our store. This is our
guarantee to you!

If you (somehow) find another online store with a lower price than us
please let us know, simply email us at sales@outerprovisions.com with a link to the same product on a competitor's website.

Once we have a chance to verify the pricing, we will match or beat the
price you found. No questions asked!

Please note that the price must be the total price, that includes any
shipping costs and taxes that may be charged by the comparison site.
For any further questions, view our Contact Us page.